Gamble pays off: Greg Biffle stretches fuel mileage to finish fourth at Loudon
By , Jay Pennell
Published September 29, 2015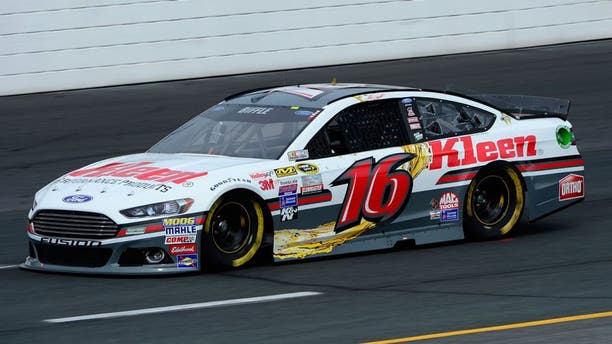 Greg Biffle has not had a lot to brag about so far during the 2015 season. The veteran driver has struggled to find speed and failed to make the 16-driver Chase field. However, the Roush Fenway Racing driver had plenty to smile about after Sunday's Sylvania 300 at New Hampshire Motor Speedway, where he finished fourth.
Starting from the 25th spot, Biffle struggled with the handling of the No. 16 Ford for much of the afternoon as he and crew chief Matt Puccia worked to improve the overall performance.
Pitting under caution on Lap 205, the team took two tires and fuel, putting them on a different strategy than the rest of the leaders. When the final caution of the day brought the majority of the field to pit road on Lap 239, Biffle stayed on track and assumed the race lead.
When Brad Keselowski was black flagged for beating Biffle to the restart zone, the driver of the No. 16 Ford remained in front of the field for 12 laps. Running much better in clean air, the non-Chase driver was unable to keep the fast cars of Kevin Harvick, Matt Kenseth and Denny Hamlin behind him.
"The car in clean air, it was unbelievable how good it was in clean air," said Biffle. "Once I got out front there it was pretty good. I wasn't quite as fast as the No. 4 (Harvick) and the No. 20 (Kenseth) and No. 11 (Hamlin). They had better tires than I did, but I would have liked to have tried it on equal tires.
Gambling on fuel strategy by making his final stop on Lap 205, Biffle slowed the pace and was able save enough gas to make it to the end. As Harvick and a handful of others ran out in the closing laps, Biffle hung on to earn just his third top-five finish of the season.
Ironically, both of Biffle's previous top-five finishes -- at Charlotte and Pocono -- came during fuel mileage events as well. The strong run has Biffle feeling optimistic even though he admits there is work that remains to be competitive week-in and week-out.
"I feel really good about this run, especially when we got out in clean air how fast the car was," he said. "Our Ford Fusion ran really good and we're happy to have Kleen Performance on it this week, but we still have a little bit of work to do. They were on a little bit better tires than we were, so they showed a little bit more speed than we did right there -- the No. 4, the No. 11 and the No. 20 -- but I was trying to save a little bit of gas too. I knew I had a long ways to go if we were going to make it that far, so it was a great run for us.
"The team needed this. We need to continue to work and try to make our cars a little bit better."
https://www.foxnews.com/sports/gamble-pays-off-greg-biffle-stretches-fuel-mileage-to-finish-fourth-at-loudon