Flyers, Bruins react to news of Bin Laden's death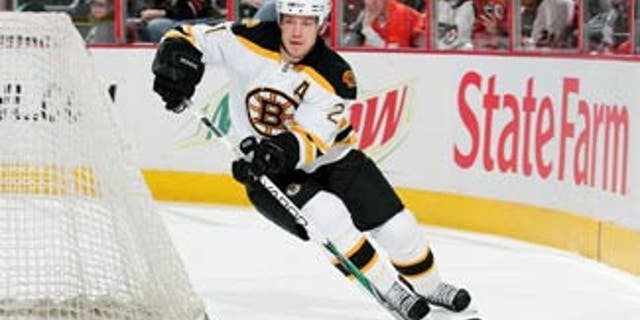 PHILADELPHIA -- The Stanley Cup Playoffs are an all-consuming affair for the players involved, but for a few hours, their minds went to a completely different place.
The news of the capture and death of Osama bin Laden had personal meaning on both sides of the rivalry between the Philadelphia Flyers and Boston Bruins.
Bruins defenseman Andrew Ference said as soon as he heard the news Sunday, he texted his friend Lucas Carr, an Army Ranger currently serving overseas.
"I texted my friend Lucas right away and said did your guys get him," he told reporters following Monday's morning practice here at Wells Fargo Center. "They've been watching the Bruins games over there and we've been keeping in touch with them. I know they were out for a few days. He texted me a couple days ago and said they were out going hunting for bad guys, so I said was that your boys. He was excited. He said last night there was a lot of sleepless nights looking for that guy. I'm really proud for those guys. I didn't really feel it myself, but knowing those guys, how they put their butts on the line so much for us, for them to get a victory like that is pretty cool."
In Philadelphia, thoughts turned to Ben Stafford, a former Flyers prospect currently serving in the Marines. Stafford, while playing for the Philadelphia Phantoms of the American Hockey League -- his teammates included current Flyers Jeff Carter and Mike Richards -- scored the winning goal in the final game of the 2005 Calder Cup championship series, and after the game retired. He enlisted in the Marines in 2006, and has served tours of duty in Iraq and Afghanistan.
Flyers head athletic trainer Jim McCrossin has stayed in touch with Stafford, who has been home in San Diego for about four months following his most recent tour of duty. He said when he heard the news Sunday, his thoughts turned not only to Stafford, but to other members of the military he's befriended over the years.
"When it comes to our guys and girls over there … I do what I try to do and keep them in my prayers," McCrossin told NHL.com. "Not just for Ben but for all of our guys and girls over there. I want them to come home."
A staple of playoff hockey in Philadelphia is "God Bless America," with current Flyers anthem singer Lauren Hart performing a duet with the late Kate Smith, who is famous in Philadelphia for her solo rendition prior to Game 6 of the 1974 Stanley Cup Final.
The performance is renowned throughout the NHL, and could be even more emotional prior to Game 2.
"Philly's a patriotic town," said McCrossin, who admitted to getting goose bumps just thinking about it. "I think we'll just see a few more mouths lipping along -- hopefully singing it."
Contact Adam Kimelman at akimelman@nhl.com. Follow him on Twitter: @NHLAdamK