Flashback Friday: Kevin Harvick beat Carl Edwards in drag race for the ages
By , Tom Jensen
Published March 17, 2017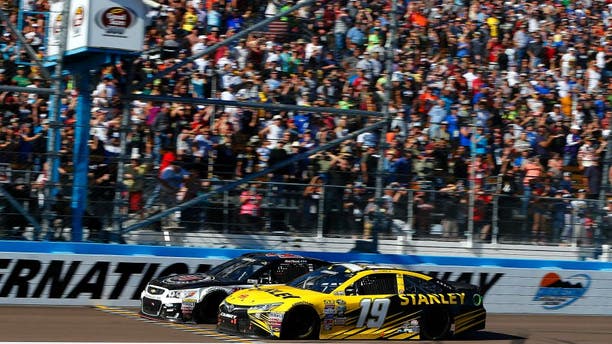 If Sunday's Camping World 500 Monster Energy NASCAR Cup Series race (3 p.m. ET, FOX) at Phoenix Raceway is anything like last year's, we ought to be in for a nail biter.
In the 2016 edition of this race, Kevin Harvick and Carl Edwards held a drag race for the ages down the frontstretch as they raced towards the checkered flag.
And when it was over, Harvick's No. 4 Stewart-Haas Racing entry crossed the start-finish line just 0.01 seconds ahead of Edwards' No. 19 Joe Gibbs Racing Toyota in a race that is tied for the seventh-closest finish in NASCAR's top division since the advent of electronic timing and scoring in 1993.
It was Harvick's record eighth victory at the 1-mile Arizona track.
"All in all, I knew I was going to be on defense down there," Harvick told FOX Sports in Victory Lane after last year's race. "I got up too high. I wasn't able to stay on the bottom like I wanted to and he got up into me -- like he should have.
"I knew I needed to get a good run off the (final) corner and that I was going to have to get into his door. And it worked out, just barely."
"Those guys did a great job all day," Edwards said of Harvick's No. 4 SHR team. "They hung on with those older tires -- but on that final restart, we were on fresher tires and we were faster. So I thought, 'Man, I'll just move him out of the way.' And I just didn't move him far enough.
"Then he got into my door," Edwards said. "I tried to time it. I thought, 'I think he's going to beat me,' so I tried to time it so I sideswiped him before he got there (to the finish line). But I needed to be in front of his front tire. Anyway, it was a fun race. I wish we could have won that thing."
Alas, Edwards won't be here this weekend, but last year his JGR teammates Denny Hamlin and Kyle Busch finished third and fourth, respectively, so Sunday's race may shape up into another SHR dogfight.
https://www.foxnews.com/sports/flashback-friday-kevin-harvick-beat-carl-edwards-in-drag-race-for-the-ages