Five Steelers facing a make-or-break season in 2015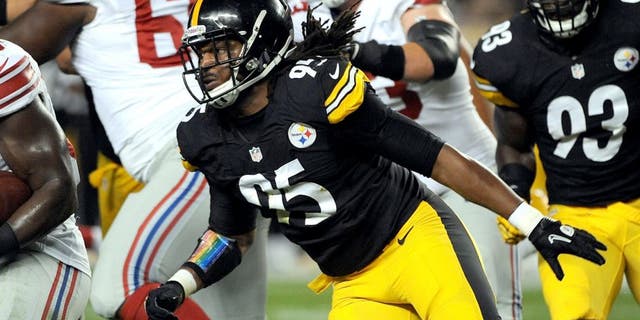 It should come as no surprise that the biggest question marks for the Steelers heading into 2015 reside on their defense. The offense emerged as a dominant force last season powered by the triple threat of Ben Roethlisberger, Antonio Brown and Le'Veon Bell. A very stiff offensive line and the rise of playmaker Martavis Bryant will make the unit even more dangerous.
On the defensive side, a handful of players should be the ones feeling danger about their roster spots in Pittsburgh. If these five players don't step up their game, the price of their contracts might not be worth paying for the Rooney family.
Jarvis Jones, outside linebacker
The Steelers have been patiently waiting for their No. 17 overall pick of 2013 to establish himself as a pass rushing threat. Just when it looked like he was starting to turn the corner last season with two sacks in his first three games, he broke his wrist and was virtually a non-factor the rest of the way.
Jones, who has been hesitant to bulk up in the past, finally caved and added 15 pounds of muscle this offseason, thanks in part to some summer workouts in Arizona with workout warrior James Harrison. Jones reported to camp at 258 pounds, according to DK on Pittsburgh Sports.
Now a little stronger and bigger, Jones also stands to benefit from new defensive coordinator Keith Butler's simplified system after struggling to grasp Dick LeBeau's scheme. Jones is convinced he is ready to take the next step. Now he needs to convince everyone else.
Mike Mitchell, free safety
It didn't take long for Steelers fans to sour on Mitchell in his first season of a five-year, $25 million deal. (It also didn't help that he told a fan to "kill yourself" on Twitter). Mitchell struggled to get acclimated in the Steelers defense and went the entire year without an interception, adding 71 tackles and three passes defensed. He ranked 62nd out of 87 safeties according to Pro Football Focus, and was a liability in the run game.
The lack of a pass rush and the inability to establish chemistry with an aging Troy Polamalu may have had something to do with Mitchell's deficiencies, but two groin tears that lingered all season gives Mitchell a relatively clean slate heading into 2015. Mitchell downplayed the injury all last season, but revealed this offseason that he was playing at 60 or 70 percent.
His 100 percent needs to be a lot better in 2015 or general manager Kevin Colbert may start having buyer's remorse and cut bait with Mitchell next offseason.
Cortez Allen, cornerback
Allen is coming off a dreadful 2014 that saw him lose his starting job after seven games. How bad was it? Allen was rated as the worst corner in the league at the time of his benching by Pro Football Focus.
Those are bad benchmarks for someone entering the season with the team's fourth-highest cap hit. Allen, now in the second season of his five-year, $26 million deal, already has the inside track to regain his starting job in 2015. But if he gets toasted like he did last year, he'll be toast in Pittsburgh.
Shamarko Thomas, safety
Thomas has big shoes to fill this year as Troy Polamalu's heir apparent at strong safety. The first thing he needs to do is be able to stay in his own shoes, so to speak, as Thomas has battled one injury after another during his two seasons in the league. He missed out on several opportunities for seasoning last year when Polamalu was injured himself, and Thomas ended up playing just three defensive snaps all season while relegated to special teams.
Thomas will never be Polamalu 2.0, but he did remind noted NFL draft analyst Mike Mayock of former Colts All-Pro safety Bob Sanders when he came out of Syracuse as a fourth-round pick. Thomas is expected to make the big leap to starter in 2015, and he'll have to at least show that he has the potential to be the team's next long-term solution on the back line.
Lawrence Timmons, linebacker
The issues with Timmons have more to do with numbers off the field than his performance on it -- first being his cap number, the second being his age.. Timmons' cap hit will drop from $12.56 million this year to $11.8 in 2016, but that number next year might still be too high for a linebacker who will be on the wrong side of 30 with nine seasons under his belt.
Timmons needs to stay sharp because just a small drop in play might have the Steelers thinking of saving cap space in his name. As long as he stays productive, it would probably behoove both sides to reach a middle ground and extend Timmons' stay in the Steel City at a lower cap number.
*All salary cap information comes from Overthecap.com.