Five Redskins facing a make-or-break season in 2015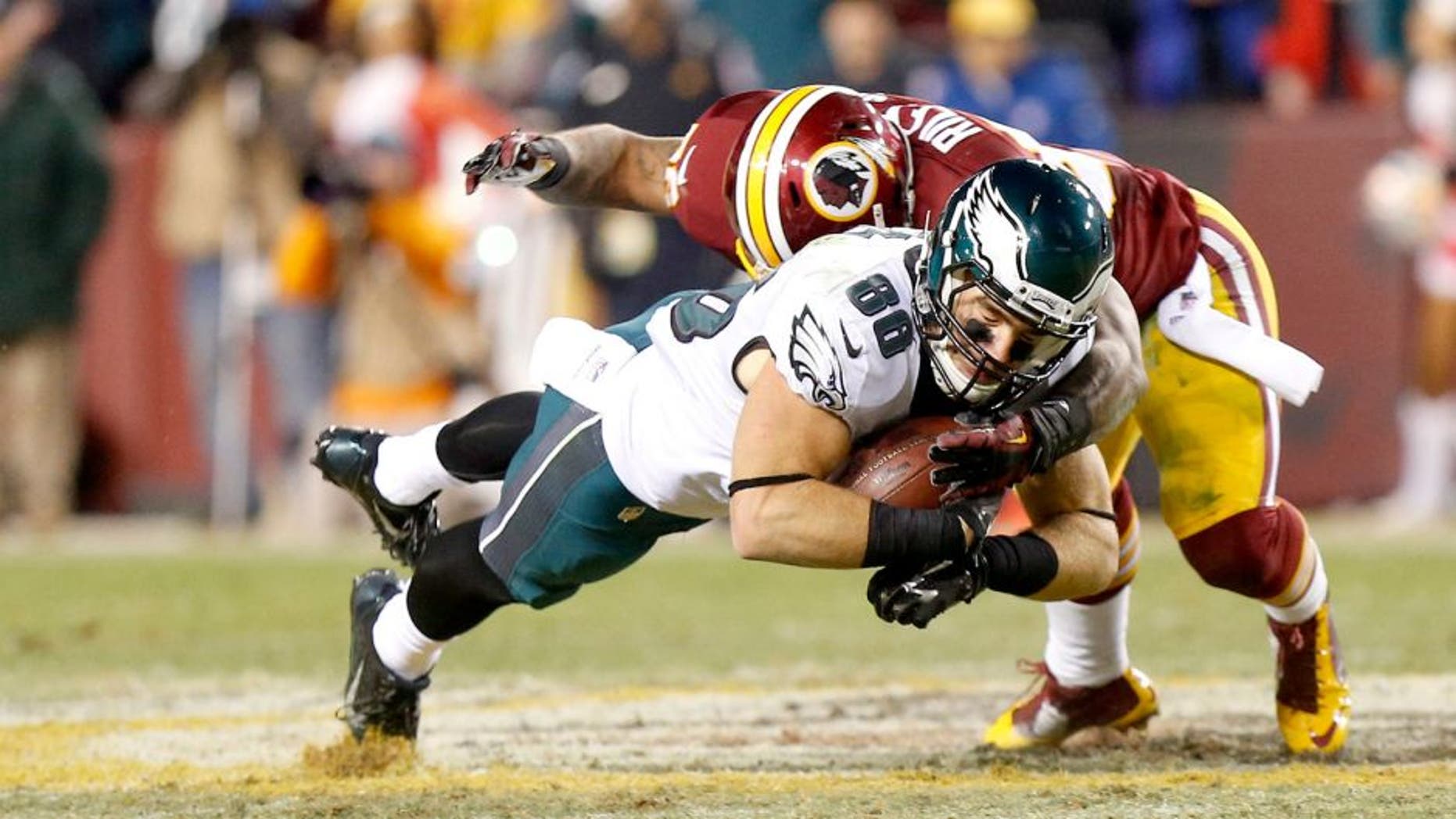 The NFL is an unforgiving league and the nickname "not for long" league didn't just come out of nowhere. Due to the NFL's strict salary cap, player movement is fluid from season to season, and sometimes week to week.
The Washington Redskins have built their roster for the 2015 season, but the future of their roster is in part tied to the contracts they have already signed. With several key impending free agents and big name contracts from the Bruce Allen era, the 2016 roster could look a lot different.
The following five players will need to step up and meet or exceed expectations if they want to remain members of the Redskins in 2016.
Robert Griffin III
Of course, we must open things up with Robert Griffin III. The Redskins picked up his fifth-year rookie contract option earlier this offseason, but it is only guranteed for injury. Still, given Griffin's injury history, it was an odd decision to pick up an option that will cost them roughly $16.16 million against the 2016 salary cap.
Griffin's progression in 2015, his second year in head coach Jay Gruden's offense, will be key for the Redskins' chances in 2015 and Griffin's chances of remaining a Redskin beyond 2015. So far, Griffin's coaches and teammates have been effusive in their praise of Griffin throughout the offseason program and the first few training camp practices. According to left tackle Trent Williams, Griffin is working through his reads faster and getting the ball in the hands of his play-makers at the skill positions.
It is important to take all of the coach and player-speak lightly. But keep in mind, there was not a lot of positive buzz surrounding Griffin's play during this time of the year in 2014. If Griffin can become a mastermind in Gruden's offense, his footwork and mechanical issues can be patched up quickly. Griffin has the talent surrounding him at wide receiver and tight end, and new offensive line coach Bill Callahan should help patch up the offensive line.
If Griffin can start winning football games again, the Redskins will likely scrap his fifth-year rookie option altogether and look to sign him to a long-term deal. That's how fast things can change for Griffin and a Redskins franchise that is clamoring for him to establish himself as the franchise quarterback.
Dashon Goldson
After fielding arguably the worst safeties in the NFL in 2014, the Redskins aggresively pursued the safety position this offseason. As usual, the free agent safety class was top-heavy and shallow, but they did manage to add Duke Ihenacho and Jeron Johnson. They will compete for the starting strong safety spot. At free safety, the Redskins traded for former Pro Bowl safety Dashon Goldson.
Goldson had emerged as one of the top young safeties in the NFL with the 49ers, and he signed a massive five-year, $47.5 million contract with the Buccaneers in 2013. During Goldson's two-season stint with the Buccaneers, it looked like we were watching a completely different player. In 2013 and 2014, he finished as the 81st-best and 86th-best safety, out of 86 and 87 qualifiers, respectively, according to Pro Football Focus' grades.
Goldson partially blamed his drop in performance to the defensive scheme he played under in 2014. Buccaneers boss Lovie Smith is noted for his Cover-2 based defensive scheme, and Goldson is noted for his aggressive style. However, Goldson had no excuse for the 2013 season when Smith wasn't coaching the Buccaneers. With the Redskins, Goldson will get an opportunity to establish himself in new defensive coordinator Joe Barry's aggresive scheme.
Goldson will have to make major strides in his game during the 2015 season if he wants to stick with the Redskins in 2016 under his current contract. Goldson is set to count $8 million against the Redskins' 2016 salary cap, and the Redskins would receive no cap hit for releasing him. All $8 million would in space would be cleared. The Redskins will have to deem him worthy of being paid like one of the top safeties in the NFL in order to justify keeping him around under those contract circumstances.
Perry Riley, Jr.
When the Redskins signed Perry Riley Jr. to a three-year, $12 million contract last offseason, they expected him to evolve into a complete inside linebacker. Although he improved his run defense, he proved to be an even bigger liability in pass coverage, according to Pro Football Focus' grades. In primary coverage, Riley allowed opposing quarterbacks to rack up a 128.9 passer rating and he allowed six touchdowns in pass coverage, per PFF. No inside linebacker in the NFL allowed more.
Riley is expected to remain the starter on the inside in Barry's new defensive scheme. Early signs out of camp point to a scheme that calls for more aggresive play from the defensive linemen. This means that Riley will be counted on to make clean tackles and prevent big pass plays at the second level of the defense. This is something he hasn't been able to accomplish consistently throughout his five-year NFL career.
Riley is set to count roughly $5.05 million against the Redskins' 2016 salary cap. The Redskins can recoup $4 million in cap space by releasing Riley before June 1st. Unless Riley improves drastically, the linebacker who was handed his extension by former general manager Bruce Allen could be shown the door after the 2015 season.
Andre Roberts
When the Redskins signed Andre Roberts to a four-year, $16 million contract last offseason, they expected him to immediately serve as a dyanmic return man and a mismatch in the slot. Instead, Roberts proved to be a major liability as the Redskins' slot receiver throughout the course of the 2014 season.
He caught just 38-of-68 targets for 453 yards. According to Pro Football Focus, he led all slot receivers with seven drops. Some of his production can be blamed on poor quarterback play, but he failed to fulfill his role as a safety valve. The explosive plays that we got used to seeing him make in Arizona were no longer a part of his arsenal.
Roberts is set to count $5 million against the Redskins' 2016 salary cap. The Redskins can recoup $3 million in cap space if they release Roberts before June 1st, but the release would result in $2 million of dead money.
Roberts is another holdover from the short-lived Bruce Allen general manager era. If Roberts continues to struggle, it is unlikely that the coaching staff keeps him as the starting slot based solely on the contract he signed. And if he no longer sees regular playing time in the slot, there is no chance the Redskins keep him aboard at his price.
Pierre Garcon
By all accounts, Pierre Garcon is a model of what head coach Jay Gruden looks for in all his players. There are plenty of reports painting Garcon as one of the Redskins' hardest workers. In 2015, the Redskins need him to not only be a leader by example on the practice field, but he needs to also lead by example during the regular season.
After finishing with 1,346 receiving yards and five touchdowns on 113 receptions in 2013, he finished with just 752 receiving yards and three touchdowns 68 receptions in 2013. Garcon has moved from the "X" wide receiver position to the "Z" position in Gruden's offense. This role change should provide Garcon with more targets in the short to intermediate range, an area where he has excelled in the past.
Garcon is set to count a whopping $10.2 million against the Redskins' 2016 salary cap. If the Redskins release him before June 1st, they would be left with only $2.2 million in dead money, freeing up $8 million in 2016 cap space. In the end, Garcon's future with the team could be directly tied to Griffin's progression in the offense in 2015.
*All salary cap information comes from Overthecap.com.
For more on the Washington Redskins and the rest of the NFC East, you can find Dan on Twitter @DanSchneierNFL. You can also check out all of the FOX Sports NFC East team pages for live updates and analysis.