Felix, Tarmoh easily win heats of 200 at trials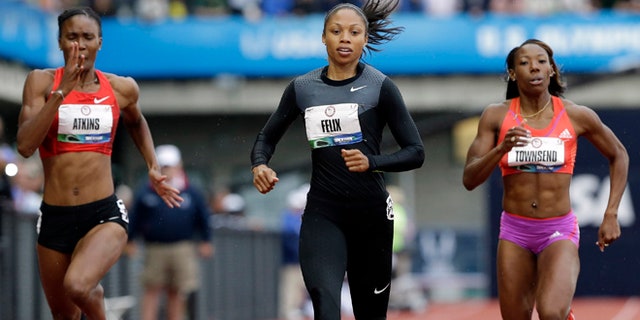 NEWYou can now listen to Fox News articles!
EUGENE, Ore. – Looking so smooth and exerting little effort, Allyson Felix glided to an easy heat win in the 200 meters.
Minutes later, appearing just as smooth and expending just as little of energy, Jeneba Tarmoh cruised to a victory in her heat as well at the U.S. Olympic track trials on a drizzly Thursday night.
If controversy was weighing the sprinters down, they didn't show it on the track.
Five days ago, the training partners crossed the finish line in a tie for the third and last Olympic spot in the 100.
Now, everyone is waiting to see what they will choose to break the dead heat -- a runoff, coin flip or if one of them simply gives the spot to the other.
After the race, Felix and Tarmoh might have gotten more of a workout than on the track -- trying to make it through the media without saying a word.
First was Felix, who followed her coach, Bobby Kersee, through the corral and into the restricted area reserved for athletes. The only thing she muttered on her way out was a simple "after the final" comment.
Kersee, who also coaches Tarmoh, doubled back around and met up with Tarmoh, escorting her through the same circus. Tarmoh apologized on her walk, politely declining interview requests with a "No, I'm sorry."
Felix and Tarmoh have already said they won't announce any sort of decision until after the final on Saturday.
Judging by their performance on a slick track, they should each have a lane on that day.
In a thrilling finish to end the night, Galen Rupp caught Bernard Lagat in the 5,000 final, a scintillating race that came down to a sprint at the end.
Rupp finished in a time of 13 minutes, 22.67 seconds, significant because it broke meet record set by the late Steve Prefontaine nearly 40 years ago.
Around these parts, Pre's a folk hero, rising to fame in this very stadium.
"Never brought (Prefontaine's record) up," said Rupp's coach, Alberto Salazar. "I told him, `The only way you can have the confidence you can kick it on the last lap, is to leave it to the end here. If you go early, we're never going to know. In London, you're going to have to do it in the last lap.' That was the plan today, get it going a little bit."
Rupp outkicked one of the best, too. Lagat is 37, but he still has the energy of a youngster.
"He's 1-for-13 against Lagat now," cracked Salazar, who said Rupp will run both the 5,000 and 10,000 in London. "I was going to joke afterward that if Galen had lost today, we still have another five years to beat Lagat. We figure we can get him when he's around 45."
Julie Culley (women's 5,000), Evan Jager (steeplechase), Lance Brooks (discus) and Brad Walker (pole vault) also won.
Felix looked stylish in her black two-piece suit with neon green patches. She looked just as stylish blasting out of the blocks and finishing in a time of 22.82 seconds.
And then Tarmoh took the track. Like Felix, she took off and couldn't be caught, clocking 22.90 seconds.
The 100-meter flap seemed hardly a concern.
USA Track and Field was caught off guard by the third-place tie and had no protocol in place. The organization had to make one up in a hurry, resulting in all sorts of criticism.
The 200 has long been Felix's specialty, winning Olympic silver medals in 2004 and `08. She's said that if she doesn't get a gold in the 200, it will be considered a "failure."
"Just because it's not my first games, not my second, but my third time," Felix said in a recent interview. "I've had eight years to think about being a silver medalist. This time I want to win."
After six grueling rounds -- provided, of course, they both make it to the 200 final -- the two will get to pick how to break the tie. While Felix and Tarmoh technically have until Sunday, when the trials end, to decide, there might be some wiggle room.
Kersee has been advocating for a Tuesday runoff race, should that be the option his sprinters decide to pick. That way, they have more time to recover.
Because of the unique circumstances, these two sprinters may forever be linked. Before this drama, many had heard of Felix, who's one of the faces of the sport. But few knew anything about Tarmoh.
Fans are quickly learning about the 22-year-old who began turning heads last season when she finished third in the 200 -- no tiebreaker necessary -- at U.S. championships to earn a spot on the team bound for South Korea.
Soon after, Tarmoh decided to leave Texas A&M and turn pro. She was a two-time runner-up in the 200 at NCAA championships.
Overlooked in the Felix and Tarmoh drama was the performance of Sanya Richards-Ross, who looked strong in her opening heat as she tries to make the team in the 200 after already earning a spot in the 400.
"The first race is always the toughest, because you really want to go for it but you want to stay controlled," Richards-Ross said. "I felt good today."
There was a close finish for the third and final spot in the 5,000 as Kim Conley just edged a fading Julia Lucas. Leading late in the race, Lucas simply ran out of steam in the final 100 meters.
"I gave it away," Lucas said. "It's a cut-throat sport; it's not five games. ... I was running underwater, felt like nothing I could do."
Jenny Simpson's focus was on the track for four minutes -- 4:16.70, to be exact -- before her mind returned to a raging wildfire back home in Colorado.
The 1,500 runner was highly concerned about the fire near Colorado Springs that has forced more than 30,000 residents from their homes.
Her home is safe for now, she said. But she's wondering if she's getting the full picture from a house sitter.
"I'm suspicious everyone wants me to focus on my racing here. I'll find out the state of my home when I get home," she said.