Feldman: Gilbert agrees to be Texas' new OC after trip to Tulsa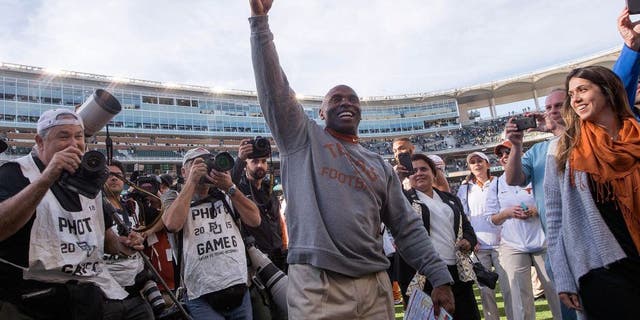 AUSTIN, Texas -- Tulsa's Sterlin Gilbert has accepted Texas' offer to become the Longhorns' new offensive coordinator, a source told FOX Sports on Friday night.
The hiring of Gilbert comes after a frenetic search for Texas' new offensive coordinator had taken another wild turn earlier Friday, as UT President Gregory Fenves flew to Tulsa with his athletic director Mike Perrin and head coach Charlie Strong in hopes of convincing Art Briles' protege to join the Longhorns. The Texas entourage flew to meet Gilbert after he turned down an offer from Texas earlier in the day.
Video footage showed Gilbert meeting with the Longhorns' entourage outside of a Tulsa home. The deal was expected deal to be formally signed at a later date and may need approval from the school's board of regents. Gilbert was expected in Austin sometime Saturday.
Earlier in the week, Texas had offered TCUs co-OC Sonny Cumbie to become UT's OC, but he declined to remain with Gary Patterson's program.
As Tulsa's co-offensive coordinator, while also coaching the receivers and quarterbacks, Gilbert helped Tulsa rank No. 14 in total offense this fall for a program that made a dramatic improvement under first-year coach Phillip Montgomery.
Under the guidance of Gilbert at Eastern Illinois, quarterback Jimmy Garoppolo won the Walter Payton Award, the FCS equivalent of the Heisman Trophy, given to the nation's best player. Garoppolo threw for 5,050 yards and 53 touchdowns in 2013 and during his two seasons under Gilbert's guidance passed for 8,873 yards and 84 TDs.
The full-court press to get Gilbert was a surprise escalation of the stakes at a Texas program that went 5-7 and has struggled through consecutive losing seasons. The school made an extraordinary effort to land a coach who wasn't even Strong's first choice to revive one of the Big 12's worst offenses.
And it was a remarkable personal appeal by Fenves, who has strongly supported Strong despite the losing seasons. When reports surfaced earlier in the day that Gilbert had turned down a Texas offer, angry fans worried about damage to the program's image blamed the administration as well as Strong.
Fenves tweeted a message of strong support for the head coach, then boarded the plane with Perrin and Strong. Perrin, who was initially brought on as interim athletic director in September and given the permanent job earlier this month, also has stated full support for Strong.
The Friday night effort was just the latest move in a whirlwind week for the president, who on Wednesday was at the U.S. Supreme Court to attend oral arguments in a landmark affirmative action case involving Texas and the school's admissions process.
The urgent meeting to snare Gilbert could be a risky move for both Strong and Fenves. Strong is widely considered to be under pressure to win in 2016 or be fired and Gilbert will be seen as the lynchpin to success or failure.
Strong is in the third year of a five-year contract that pays him more than $5 million per year.
And Fenves has stuck his neck out for Strong and potentially risked political capital at a school where his predecessor was forced out by a Board of Regents that includes members who secretly tried to lure Nick Saban from Alabama two years ago.
Gilbert is the co-offensive coordinator at Tulsa but isn't the lead play caller and just four years ago was coaching high school in Texas. Tulsa (6-6) faces Virginia Tech (6-6) in the Dec. 26 Independence Bowl.
On Friday, multiple reports had Gilbert initially ready to accept the job, only to reverse course and stay with the Golden Hurricane. The reason for his change of heart were unclear Friday night.
The struggles to hire a top assistant have raised questions and anxiety among Texas fans about their program's stature within the Big 12 and nationally.
Since playing for the national title after the 2009 season, Texas is 41-35. Strong is 11-14 in two seasons.
The Associated Press contributed to this report.