Eric Reid takes a knee during national anthem in first game as Carolina Panthers player
Carolina Panthers safety Eric Reid took a knee during the national anthem before Sunday's game against the New York Giants in Charlotte, North Carolina.
Reid was the only player to kneel during the "Star Spangled Banner," continuing the protest he began while playing for the San Francisco 49ers. He was the first Panthers player ever to kneel during the national anthem.
Reid, who played for the 49ers for four years before his contract expired, joined Colin Kaepernick in 2016 in kneeling to protest police brutality and racial inequality. The kneeling became a controversial topic in the National Football League and captured nationwide attention when President Trump called for an end to the action.
HOW NFL NATIONAL ANTHEM PROTESTS HAVE EVOLVED SINCE KAEPERNICK
Despite Trump's threats, several players continued to take a knee during the national anthem — though that number has dwindled at the start of this NFL season.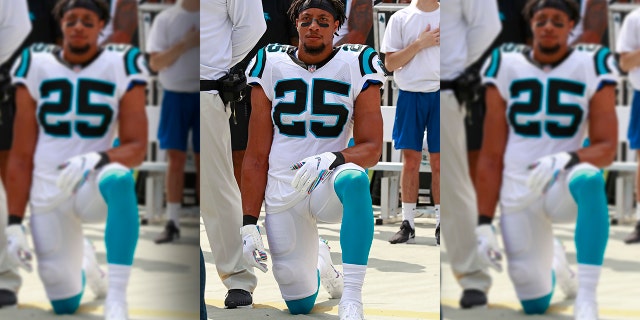 Sunday also marked Reid's return to the NFL after signing with the Panthers on Sept. 27. He and Kaepernick filed a grievance against the league alleging teams colluded against signing him during free agency because of the kneeling controversy. Despite signing a one-year contract with the Panthers, Reid told ESPN he will continue with the case "without a doubt."
Prior to Sunday's game, Reid said he was "still considering" whether he will continue the protest.
"I'm still evaluating the scope of our country, and I'll make that decision later," he said last week.
However, Reid made it clear he would continue to fight against racial and social injustice along with Kaepernick. Reid, who is African-American, said he will continue to "stand up for my people."
"Nothing will ever change unless you talk about it," Reid said. "So we're going to continue to talk about it. We're going to continue to hold America to the standards that it says on paper — that we're all created equal. Because it's not that way right now. But we're going to keep pushing toward that."
The Associated Press contributed to this report.