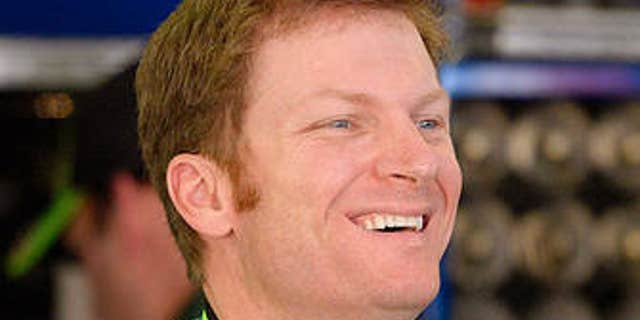 TALLADEGA, ALA. – Success at Talladega Superspeedway starts with a driver's attitude coming into the weekend.
For Dale Earnhardt Jr., fond memories of "milling around in the garage" during his childhood, watching his father dominate the track, and his own early success on the 2.66-mile high-banked superspeedway have influenced his performance over the years.
"This race track is really a special race track, just in general, to the sport," Earnhardt said. "I think the history of this place and just how it was conceived and the unique circumstances of that first race and how the drivers, many felt it was unsafe or what have you.
"How the track eventually turned into one of the most impressive and unique, concerning speed, and how the style of racing that you have here is so unique, it's just amazing what this place has been able to deliver year after year. I do enjoy coming here, and I remember this was one of my favorites as a kid."
Among Cup series regulars, Junior's has the third-best average finish of 15.1 here, and his five wins are second only to his Hendrick teammate Jeff Gordon. But he's the only driver in the track's history to post four consecutive victories.
Earnhardt believes his early success at the track led to his immense support from the Talladega faithful. His comfort level is so high when he comes to the area that Earnhardt almost feels as if he's "at home." Over the years, Earnhardt has developed many friendships here in Alabama, but acknowledges that his father's accomplishments paved the way.
"Dad really started all that with the success he had here," Earnhardt said. "Our DEI team came in and just kind of inherited already a pretty loyal fan base. This sport has got the most loyal fans as it is already. We sort of adopted a lot of people and we were able to go out and win. And that endeared them and has for some time now.
"It makes it fun to come here knowing you've got a lot of people excited to see you run. And as soon as the race starts, when you starting on the line out there before you even get in the car, the first thing you're thinking about is how fast you can get to the lead because you know a lot of people want to see you leading the race. And they come here to cheer that specific moment, and hopefully see you go to Victory Lane. You just want to produce as soon as you can."
Certainly, during his glory days in the No. 8 Budweiser Chevy, the sea of red supporters standing at attention every time he came to the point was a constant source of encouragement. While the colors have changed, the support hasn't.
"If you've got one fan or you've got thousands of fans, you know that when you put the car in first place, that they're happy," Earnhardt said. "I think you enjoy that as much as the fan enjoys it. You're happy being first, obviously, but when you see the reaction that other people get from it, yeah, it's a great feeling. It's a really good feeling.
"Sometimes you swear you can hear them, but most of the time you can't. But you can definitely see it. You can definitely see after lap after lap of going by the grandstand and seeing them sitting down. When you come by and they are standing up, it's obvious. You see the arms in the air and all that stuff."
Sure there have been moments when he felt as if the track had betrayed him. Last year, he was one of 25 cars that wrecked coming to the checkered flag -- but the No. 88 Chevy was still scored as "running at the finish.'' In 27 starts, Earnhardt has been fortunate to record just five DNFs (did not finish), and three were due to engine failures.
What's more impressive is Earnhardt finishing in the top five in every third start at Talladega.
While many drivers believe they can't control their destiny on restrictor-plate tracks, Earnhardt refuses to adopt that philosophy.
"Just because so many things are out of your hand, I think you can psych yourself out and you can definitely anticipate negative results and negative things happening so much that you almost guarantee that as your fate," Earnhardt said.
"I think if you think positively -- 'Man this is going to work, I'm going to make the right choices when things are quite working right. I'm going to keep striving and pushing and I'm going to make this a good results. I'm going to get something out of this today' -- typically it works out.
"Typically that attitude is going to prevail over, 'Man this isn't going to work, every time I come here I'm going to wreck, every time I come here I'm going to have trouble, I can't figure it out why even try.' That attitude never works."
LIMBO LAND
NASCAR veteran Jeff Burton still has no update regarding his plans for 2014.
Burton, 46, has spent the last 20 seasons competing at the Sprint Cup level and has posted 21 wins. For the last decade, Burton has driven the No. 31 Chevy for Richard Childress Racing.
"I feel really good about what is going on, and when I can talk about it I can talk about it," Burton said. "I'm really comfortable with where I am and the opportunities that have been presented to me the last month have been really interesting. Maybe one day I can talk about some of them, because some of them are crazy.
"It's been interesting. It's been a kind of interesting last few months, but I'm really comfortable with where I am and what I am going to be doing. I'm just not in position to talk about it. I promise you, when I can I will."
Burton has been mentioned as a leading candidate when the new TV contracts come to fruition in 2015.
NUMBERS GAME
12 -- Drivers were involved in a multi-truck wreck on the last lap of the Fred's 250 on Saturday at Talladega.
9 -- Career Truck wins for Johnny Sauter .
29 -- Lead changes in the truck race at Talladega -- a track record.
SAY WHAT?
Kyle Busch led five laps in the Fred's 250 before he was taken out on the last lap:
"It's all done for," Busch said of his truck. "It's unfortunate. The (truck) was really awesome. I don't know what happened. Somebody just came up from underneath me and hit me, turned me left, and then the wreck was on. When you see the checkered flag, and you see things going in front of you, you just keep your foot on it. I drove it all the way to the start/finish. I guess I knocked the wall down there on pit road. That wasn't very fun. There were a couple of really good licks that I took, so there's no sense in sitting in a hot vehicle, you might as well get out and get some fresh air."
The original article can be found at FOXSports.com: 'Dega special to Junior.