Dana White: Ronda Rousey will fight for the belt, possibly in NYC
By , Damon Martin
Published April 19, 2016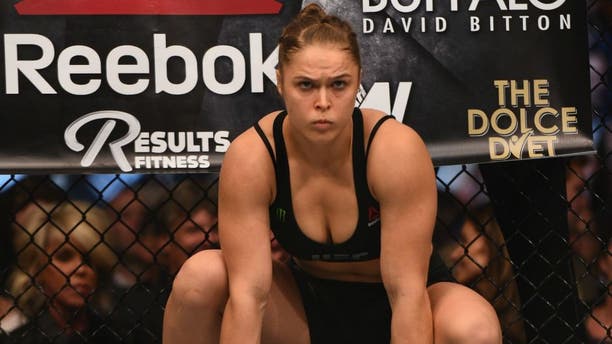 Ronda Rousey will return to the UFC before end of the year, and she will fight whoever holds the women's bantamweight title in her first fight back.
Rousey has been out of action since last November, when she was knocked out by Holly Holm at UFC 193 in Australia. Since then, Rousey has largely stayed out of the spotlight while Holm went on to lose the title to Miesha Tate in her first title defense at UFC 196 in March.
Most recently, Rousey appeared in New York when Governor Andrew Cuomo signed the bill to legalize the sport in the state. Rousey stated afterward that she would love to fight in New York in November, when the UFC lands at Madison Square Garden for UFC 205 and it sounds like she might get her wish.
"She's definitely part of the discussion (for New York) and she will fight whoever has that belt when she comes back," UFC president Dana White said about Rousey on the "Beadle and Shelburne" podcast.
Rousey fighting the champion also puts to rests rumors that she could face Holm for a second time later this year when she returns.
Holm speculated recently that after she turned down a fight with Cris "Cyborg" Justino and didn't get a rematch with Tate at UFC 200 that maybe she was being held out for a rematch with Rousey instead.
It seems the UFC has other plans for Holm while Tate will stay busy defending her belt against Amanda Nunes and possibly even one more opponent before Rousey returns.
"Miesha (Tate), she's fighting on (UFC) 200 and she might fight again before that. She wants to fight. We'll see what happens. Miesha's been the No. 2 baddest woman in the world for years so for her to stay active makes sense," White said.
"What's cool about that 135-pound division is everybody is fighting right now. The only one who isn't fighting right now is Holly. Miesha, she's fighting Amanda Nunes, who's very, very tough, so if anything crazy happens and she came out of that fight with a quick win, 100 percent healthy she could turn around and fight again and then fight Ronda."
White also said that every fighter on the UFC roster has been texting and calling to ask for a spot on the UFC 205 card in New York but as of now, there have been no decisions made regarding who will compete on the show.
From the look of things, Rousey seems to be the leading candidate for the main event while battling to regain the women's bantamweight title she held and defended six times before falling to Holm.
https://www.foxnews.com/sports/dana-white-ronda-rousey-will-fight-for-the-belt-possibly-in-nyc