Daily Fantasy Baseball Advice for April 26
By , John Halpin
Published April 26, 2016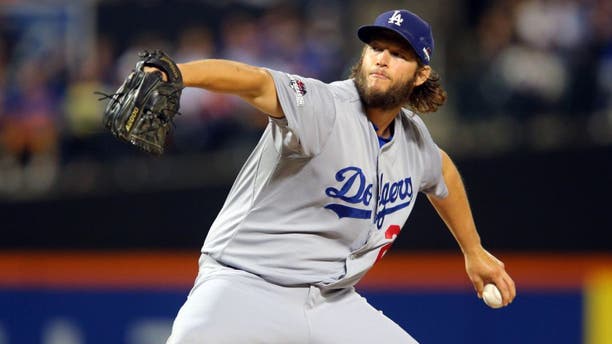 Welcome to today's daily fantasy post! Remember that you can find our posts on the brand-spanking new DFS home page, as well as the fantasy page. Bookmark those sites now!
Let's get to today's interesting facts, using DraftKings prices.
5 Things to Watch:
1. Clayton Kershaw ($13,800) is the biggest favorite on the board, and a better bet than fellow aces Max Scherzer ($12,900) and Chris Sale ($12,000). Scherzer against the Phillies is pretty close, though.
2. Beyond the aces, Ubaldo Jimenez ($8,500) draws the Rays, who have the third-highest strikeout rate in the majors. Kyle Hendricks ($8,600) gets the whiff-prone Brewers, and is a strong favorite at -215. Atlanta's Matt Wisler ($6,000) is very cheap, and has averaged 16.5 DK points over three starts so far. Finally, do you want to try one of baseball's best starters for just $7,200? That's Gerrit Cole, and he's pitching at Coors Field for the first time. Risky, I know.
3. Yo, BvPers: Jon Jay ($2,400) is 12-for-29 with three homers in 29 at bats vs. Johnny Cueto ... Alexei Ramirez ($2,500) is 7-for-11 with a homer vs. Cueto, while Matt Kemp ($4,000) is 7-for-16 with two homers vs. Cueto ... Kendrys Morales ($3,500) is 8-for-14 with a homer vs. Jered Weaver ... Nelson Cruz ($4,200) is 7-for-14 with a couple of homers vs. Dallas Keuchel.
4. Pirates-Rockies at Coors has the highest projected run total at 10, with Yankees-Rangers following at 9.5, and A's-Tigers next up at nine. If you don't go with Pirates like everyone else, stacking Yankees against A.J. Griffin and/or A's versus the awful Mike Pelfrey would make sense. A's 2B/3B Chris Coghlan ($3,300) batted second for the A's Tuesday night, and has homered three times in his last five games.
5. Bargain hunters (stacking or not) should think about A's C Stephen Vogt ($3,400) versus Pelfrey; Diamondbacks 2B/3B Brandon Drury ($2,100), who has been batting second and has averaged 10.25 DK points over his last four games; and Pirates 1B/OF Sean Rodriguez ($3,200) vs. Jorge De La Rosa. Just make sure Rodriguez isn't batting too low in the order.
Adam Meyer will post his Must-Start of the Day, Deal of the Day, Avoid of the Day, Stack of the Day and more later today!
https://www.foxnews.com/sports/daily-fantasy-baseball-advice-for-april-26