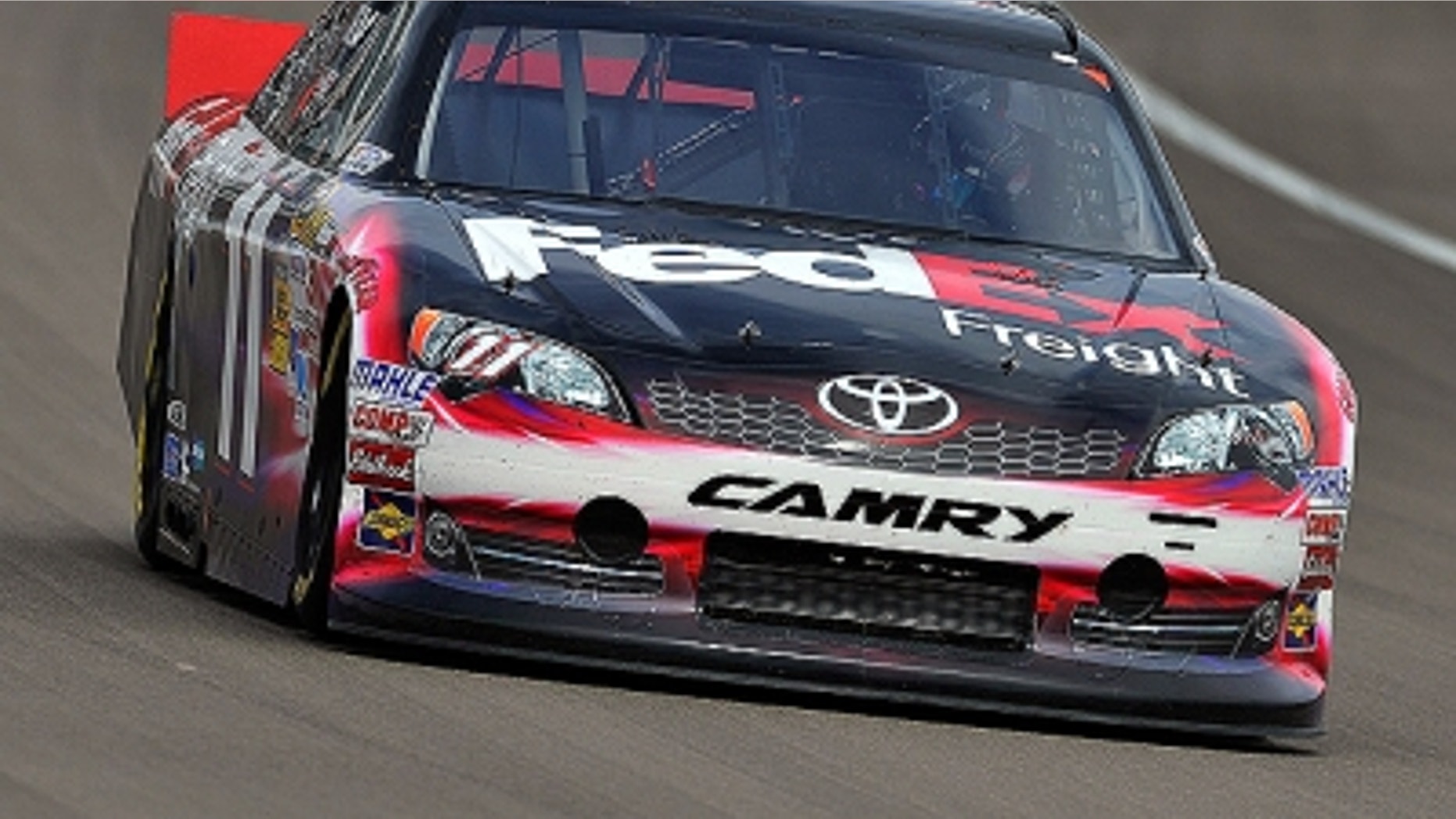 The Joe Gibbs and Michael Waltrip teams picked a good spot to put down some fast laps Friday.
The Toyota teams took the first, second, third, eighth, 11th and 13th starting spots in the field for Sunday's Auto Club 400 at Auto Club Speedway, giving the manufacturer a very good shot at rolling into victory lane in the fifth race of the Sprint Cup season.
That would be of particular note for the Toyota contingent because Toyota Racing Development's headquarters is only 50 miles away in Costa Mesa, Calif. Although much of Toyota's NASCAR effort is centered in TRD's Salisbury, N.C., facility, the California location runs the show.
Denny Hamlin won the pole Friday and was followed by Kyle Busch and Mark Martin. Joey Logano was eighth, Clint Bowyer 11th and Martin Truex Jr. 13th.
The Toyota teams, in pursuit of the manufacturer's first Sprint Cup championship, are fourth (Truex), fifth (Hamlin), eighth (Bowyer) and ninth (Logano) in the series point standings four races into the season.
The rise of MWR has been one of the big stories of the early season.
"It's big for us for Michael Waltrip Racing to be competitive," said Hamlin, who drives for JGR. "The more competitive teams you have under one manufacturer, the more information you can use.
"Obviously, we have somewhat of an alliance between Gibbs and Michael Waltrip Racing, anyway, but I know from hanging around Michael quite a bit how much effort he puts in. He is a hands-on car owner, and it's just now coming to fruition for him of what he always hoped for, and that was race-winning, competitive race teams.
"He's put a great team together. Obviously, now with them running as good, now we're looking at what they have to try to help us. It all comes back around. There's going to be times when our team runs better, and they're going to need information. With the limited amount of Toyota teams that there are, we've got to work that much tighter together, and I feel like Toyota has done a great job of bringing their teams together, especially this year."
The pole was a shot in the arm for Hamlin, whose season to date with new crew chief Darian Grubb has been a volatile mix – a fourth at Daytona and a win at Phoenix, followed by a 20th at Las Vegas and a 20th – two laps down – last week at Bristol.
"Even though we've run sub-par these last couple weeks, everyone is still in a good mood and still happy about where we're at and where we're heading," Hamlin said. "That's something that we did lose in 2011. The morale of everyone – we needed an uplift, and it seems like regardless of these last couple weeks, we knew we were going to have our struggles at the beginning of the season until we get cars built like Darian likes them and things like that.
"This is the first chapter of that, and I think we've got some good things coming along the lines. We have to be patient, we need to harness our expectations for our race team for the first eight to 10 races and then see what we have when it comes summertime."
A win in Sunday's 400-miler would be Toyota's first at ACS. Two of its drivers – Martin and Busch – have won at the track in other makes.
Mike Hembree is NASCAR Editor for SPEED.com and has been covering motorsports for 30 years. He is a six-time winner of the National Motorsports Press Association Writer of the Year Award.