CUP: The Impact Of Hamlin's Fine
By ,
Published September 15, 2015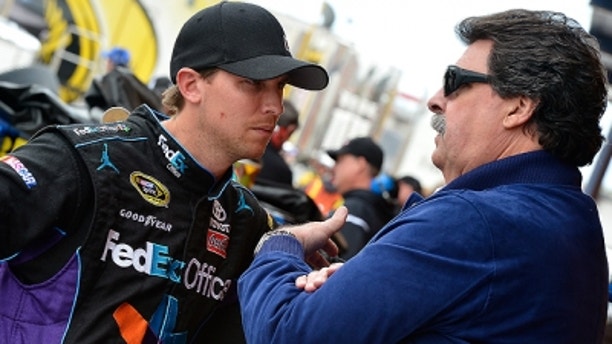 When it comes to drivers and NASCAR, seldom does push ever come to shove.
Yet given Denny Hamlin's recent displeasure with the sanctioning body fining him $25,000 for "actions detrimental to stock-car racing'' — and the driver's promise not to pay the fine, followed by "If they suspend me, they suspend me" — one has to wonder what his loss would mean to the sport.
Yes, Hamlin said on Thursday, "I don't care at this point." And he later announced his plans to appeal the fine — with his team, Joe Gibbs Racing, offering its full support.
But no one really believes this dispute will ever escalate to the point of the driver's becoming a spectator and not a participant.
However, if Hamlin — who will start in the third row of Sunday's Kobalt Tools 400 — were sidelined, could his absence be quantified?
Kobalt Tools 400 at Las Vegas Motor Speedway Starting Grid
Certainly, the loyalists of "Free Denny Nation'' would miss watching their driver mixing it up on race day. Surely, JGR could find a replacement. Back-up drivers are plentiful.
But let's face it, Hamlin is a wheelman. He's in an elite league of racers. He's fifth in the points standings — which is not unusual considering that in seven full seasons on the tour, Hamlin has never finished outside of the Chase Zone. Heck, he's only finished outside of the top 10 in the points standings once — during his sophomore season. And he's scored 22 wins in 261 starts.
Hamlin Fine Stirs Pot
From a financial standpoint, there are tangible and intangible rewards associated with a driver of Hamlin's caliber. Joyce Julius & Associates, Inc., measures in dollars the return of investment that sponsors receive from television exposure. Over 36 races and 91 telecasts in 2012, Hamlin ranked third among Sprint Cup drivers behind only Jimmie Johnson and Brad Keselowski. NASCAR's Most Popular Driver, Dale Earnhardt Jr., was fourth.
According to Joyce Julius, Hamlin's 44 sponsors received 27 hours, 55 minutes and 53 seconds of coverage, worth an estimated total of $70,879,815. Breaking that down per race, Hamlin offered his sponsors a return of $1,968,883.75 per race.
Now, the tangible in terms of Hamlin's winnings last year. For finishing sixth in the points standings, Hamlin earned $8,330,410. Divided over 36 races, Hamlin could lose approximately $231,400.27 per event.
However, this number does not factor in what missing races could ultimately mean in terms of missing the Chase for the Sprint Cup — which increases earning potential exponentially.
On Friday, when Jeff Gordon said that Hamlin must consider the "big picture," that vision encompasses a wide array of consequences. While $25,000 is a drop in the bucket for A-list drivers, for Hamlin it's a matter of principle. Nevertheless, it does come with a price.
JUST REWARDS
Kyle Busch lost the Nationwide Series race on Saturday, but he gained valuable seat time despite finishing second.
"Just learning the track and learning the tire — learning what line does what and if you can move around," Busch said. "What do you do when you move around? What kind of a different technique you have to use, whether it's throttle, brake or what have you.
"A lot of things were going on out there today, especially through turns 3 and 4. It seemed like it was really slick down there, and I imagine tomorrow (Sunday) is going to be just as bad."
The Las Vegas native said of his hometown track that it's one of the most challenging among the 1.5-mile venues due to the shadows that develop over the course of the race. Busch acknowledged that in three of his last four starts at Las Vegas Motor Speedway, he has spun coming off Turn 4, and "we don't need to do that tomorrow (Sunday)."
"When the clouds are out, it's actually not bad," said Busch, who will start 13th on Sunday. "It's bearable, and you can work with it, and when the sun comes out, man, the sun works its way that way and it just fries turns 3 and 4 all year long, every day.
"That end really loses a lot more grip than this end (turns 1 and 2) down here being covered. Like, right now it's completely shaded by the billboard and the wall and the banking. (Turns) 1 and 2 is a lot easier to get through than 3 and 4."
In nine starts at LVMS, Busch has one win, three top fives and four top 10 finishes.
WISH LIST?
With AJ Allmendinger making his IndyCar debut at Barber Motorsports Park for Roger Penske on April 7, James Finch will need a new driver for the No. 51 Phoenix Racing Chevrolet at Martinsville Speedway.
Who is on Finch's short list? Regan Smith is available since the Nationwide Series is off that weekend. Ditto Austin Dillon, who is driving the Tag Heuer Chevy SS for Phoenix Racing this weekend. And finally, Mike Bliss, who turns 48 on April 5 and has one top 15 finish on the half-mile track in 10 Cup starts.
NUMBERS GAME
19 — Points lead in the Nationwide Series standings by Sam Hornish over Justin Allgaier, Elliott Sadler and Brian Scott.
114 — Laps led by Hornish on the way to his second career Nationwide win — and the first NNS victory for Penske Racing at Las Vegas Motor Speedway.
89 — Laps logged by Mark Martin in practice on Saturday. Martin had the second-highest 10 consecutive lap average (184.380 mph), behind Kyle Busch's 185.647.
SAY WHAT?
Trevor Bayne, after finishing fourth in Saturday's Sam's Town 300 despite an altercation with rookie Kyle Larson on Lap 87:
VIDEO: Trevor Bayne and Kyle Larson Tangle
"We had a lot of ups and downs today, but we fought back every single time. That is what it takes. We have to take bad days — and this should have been a 12th-place day after we wrecked — and we finished fourth."
https://www.foxnews.com/sports/cup-the-impact-of-hamlins-fine