CUP: Pocono Power Rankings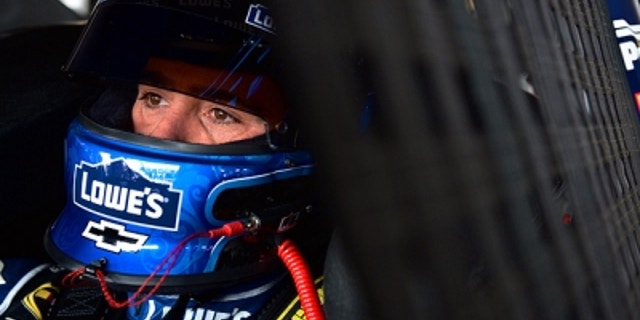 Jimmie Johnson made a rare mistake that cost him the victory in the rain-shortened Pennsylvania 400, but he still moves back on top of the FOXSports.com/SPEED.com Power Rankings for this week.
The new list:
1. JIMMIE JOHNSON — The five-time champion inexplicably got loose on the last restart at Pocono Raceway but still was the dominant car. His gaffe cost him what should have been a certain victory, but he still looks like the man to beat. Last week: 2nd.
2. DALE EARNHARDT JR. — Junior's streak of consecutive lead-lap finishes ended with a broken transmission, although he still leads the NASCAR Sprint Cup Series points standings. Last week: 1st.
3. MATT KENSETH — Best in class among the non-Hendrick cars, Kenseth was the innocent victim of Johnson's miscue and got wrecked going for the victory. Last week: 4th.
4. BRAD KESELOWSKI — Using strategy to advance from his 31st starting spot, Keselowski had a great fourth-place finish. Last week: 6th.
5. TONY STEWART — Bog slow for most of the weekend, Stewart somehow managed a top-five finish. Last week: 7th.
6. MARTIN TRUEX JR. — Wow. Truex's third-place run was his first top-five finish since Darlington. Last week: 8th.
7. GREG BIFFLE — At the end, Biffle was near the front, but got shuffled way back in the Johnson-Kenseth contact. Last week: 5th.
8. DENNY HAMLIN — Hugely disappointing weekend for the four-time Pocono winner and expectant father as he was uncompetitive after the early laps. Last week: 3rd.
9. CLINT BOWYER — Still under the radar, Bowyer punched out another top-10 finish with a good run at Pocono. Last week: 11th.
10. KEVIN HARVICK — Meh. Sixteenth for Harvick, as the Richard Childress Racing squad is struggling mightily. Last week: 10th.
11. KASEY KAHNE — The wild-card leader finished second despite having a flat-tire during the final caution period. Last week: 12th.
12. JEFF GORDON — The stunning victory by Gordon moves him into the second wild-card slot, at least for the moment. Last week: 14th.
13. RYAN NEWMAN — Sixth place wasn't too bad for Newman, who is tied with Gordon in points, but behind the wild-card standings on a tiebreaker. Last week: 13th.
14. KYLE BUSCH — Another horrible race for Busch, who finished 33rd after a brake rotor exploded early. Last week: 9th.
15. PAUL MENARD — Pocono is one of Menard's favorite tracks, and his 11th-place finish was a good result for him. Last week: 15th.
16. CARL EDWARDS — Seventh-place for Edwards, but he continues to fall further and further behind in the Chase. Last week: 16th.
17. JOEY LOGANO — By finishing 13th, Logano was the best of the Joe Gibbs Racing Toyotas. Last week: 17th.
18. MARCOS AMBROSE — A nice 10th-place run for Ambrose, who continues to improve. Last week: 19th.
19. JAMIE MCMURRAY — The former Daytona 500 and Brickyard 400 winner finished 18th. Last week: 18th.
20. JUAN PABLO MONTOYA — Finishing 20th was disappointing, given that Montoya started on the pole. Last week: 20th.
Tom Jensen is the Editor in Chief of SPEED.com, Senior NASCAR Editor at RACER and a contributing Editor for TruckSeries.com. You can follow him online at twitter.com/tomjensen100.