CUP: MWR Approaches First Chase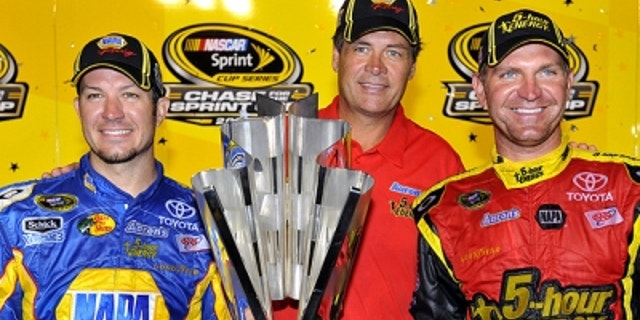 The new team in the Chase this season is Michael Waltrip Racing, and the MWR Toyotas bring a splendid revival story to the NASCAR championship run.
From a young team that once was on the brink of financial failure to a steady, performing team that now has two chances to win the Sprint Cup championship, MWR has come a long way in a short time.
The seeds of the change were planted last year when team co-owner Michael Waltrip approached Toyota Racing Development about becoming much more involved in the team's day-to-day car preparation and engineering.
TRD vice president Andy Graves moved into an office at MWR's Cornelius, N.C., headquarters and worked with the team one or two days a week. At TRD's Salisbury, N.C., headquarters, MWR was pulled fully into the loop with Toyota car design, engineering and engine development.
The results, which also were boosted by Scott Miller's arrival at MWR as competition director, began showing in the final weeks of last year as Martin Truex Jr. practically redirected his season. In the last nine races, he had finishes of ninth, first, eighth, fifth and second, starting a trend that would carry over into 2012.
Clint Bowyer arrived from Richard Childress Racing in the off-season, and, with part-time driver Mark Martin's input, the team gained significant ground this year. When the Chase starts Sunday at Chicagoland Speedway, both Bowyer and Truex will be in the championship hunt.
TRD president Lee White said the Truex run late last season provided the best evidence that MWR was ready to roll.
"They basically changed the way they were engineering their cars and completely bought into the TRD recipe of chassis design and car design and started using our tools at Salisbury," White said.
"We saw the benefit of that last year. Everybody noticed in the chase that Martin Truex was suddenly kicking it."
White said the merger of the MWR and Joe Gibbs Racing engine programs has been beneficial, along with the teams' general cooperation with each other.
"Once the foundation was laid, it was all about people," White said. "Clint Bowyer arrived, and Scott Miller played a big role. Rob Kauffman (co-owner) made the commitment that money wasn't going to be an issue."
And the final part of the puzzle, White said, was the veteran Martin, who is racing part-time for the team this year and next but whose presence means much more than simply on-track time.
"I've known Mark since Jack Roush hired him back in 1988," White said. "I worked with him closely there for a couple of years. We had a lot of fun and developed a friendship. He came to Daytona this year to drive the 55 car in testing there. He climbed out of the car and walked over, and it was like 20 years hadn't even passed.
"He's an amazing guy. He's been a huge part of the advancement of MWR with the way he leads people and inspires them to work harder and do the extra things that are necessary to succeed in this sport."
Bowyer enters the Chase with a pair of wins – the most recent in the regular-season finale last week at Richmond. Truex has no victories, but, in a consistent season, has had 14 top 10s, more than Denny Hamlin, Tony Stewart and Kevin Harvick.
Mike Hembree is NASCAR Editor for SPEED.com and has been covering motorsports for 30 years. He is a six-time winner of the National Motorsports Press Association Writer of the Year Award.