CUP: Hendrick Hat Dance On Hold
By ,
Published September 19, 2015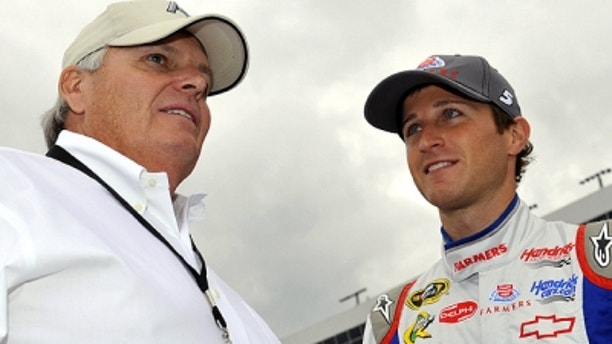 There is no truth to the rumor that you now can buy those moldy "Hendrick Motorsports 200th Win" caps at the flea market down the road.
It's true that they've been hauled around the country for six months, patiently waiting to adorn the brow of Jimmie Johnson or Jeff Gordon or Dale Earnhardt Jr. or Kasey Kahne and, certainly not the least noggin, that of team owner Rick Hendrick.
The Hendrick powerhouse has been in quicksand of a sort since last October, when Johnson scored the team's last victory – Hendrick's 199th. It came at the site of this week's Sprint Cup race – Kansas Speedway, which might be a meaningful hint that the drought is almost over.
"The racer in me wants to win," Johnson said. "We've been really close over the last five or six months. You look through last year. Even through at different points we were leading a lot of races, we didn't execute at the end for whatever reason.
"It's nice to be running well. It's nice to be in this position. But I want to get back to our winning ways really soon."
The 200th win is a special goal for the four Hendrick drivers and teams.
"Whenever it happens is going to be very special for the company," Johnson said. "Again, I just want to win. I don't care where it is, whatever reason. There's 36, 38 of these things a year, and I want to take home a bunch of trophies. Second is nice, but winning is everything."
Hendrick's drivers have pretty good worksheets at Kansas, site of Sunday's STP 400.
Johnson has won twice in 11 races there, and Jeff Gordon owns two wins in 12 events. Johnson has an average Kansas finish of 8.4, second in the points top 10 only to leader Greg Biffle's 8.3. Gordon has a Kansas average finish of 10.3.
Dale Earnhardt Jr. and Kasey Kahne are winless at the track, but Kahne has three top 10s in nine races, and Junior has five in 12 races.
That box with the special hats will be on board as Hendrick Motorsports travels to the Midwest this week.
It might be time to break open the contents.
Mike Hembree is NASCAR Editor for SPEED.com and has been covering motorsports for 30 years. He is a six-time winner of the National Motorsports Press Association Writer of the Year Award.
https://www.foxnews.com/sports/cup-hendrick-hat-dance-on-hold