CUP: Gordon Seeks Return To ACS Victory Lane
By ,
Published September 19, 2015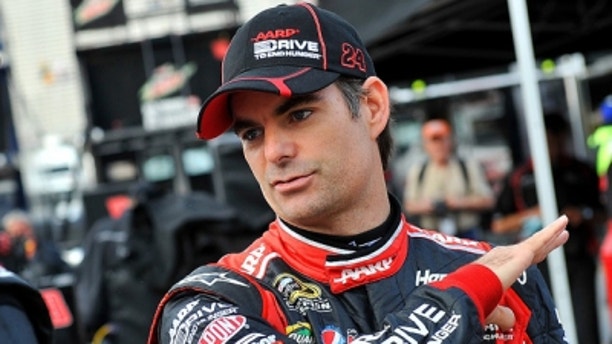 Jeff Gordon has won three Sprint Cup races at Auto Club Speedway – but it's been a while.
Gordon won the series' inaugural race at the two-mile track in the far, far Los Angeles suburbs in 1997 then repeated in 1999 and 2004.
After running two Sprint Cup races per season for seven years, ACS returned to a single event last year, but Gordon said fewer laps on the relatively flat, super-fast course don't create a problem.
"We may only race here once a year, but it doesn't take long to get back in the rhythm," Gordon said. "And I love that you can race high, low and everywhere in between here. That gives us the ability to search for a line that works.
"And I think the fans love the fact you'll see three, four and sometimes five-wide racing here."
Still, there will be some information to pick up rapidly when teams arrive at the Fontana track. It's a different perspective from the crew chief's seat.
"It's more difficult when you visit a track only once per season," said Alan Gustafson, Gordon's crew chief. "Time is obviously a big thing. Everything stems off that one event. What has time changed? The track, usually. Every year the track changes, and when you race there only once you have only half the information.
"And, over a year's time, the cars and setups evolve significantly. I don't put much stock in our California notes (from last March). I look at [August] Michigan – a similar track – and the notes are way more current.
"If you look at the car we had at California last year and the car we will run this week, they're very different."
The fact that drivers can choose among several racing lanes is a big plus at Fontana, Gustafson said.
"It won't make the car automatically great, but it can loosen the impact of a car that is not handling well," he said. "And racing at Atlanta is a lot like California in the fact you will see drivers run the bottom early in the run and then move up the track and run the top. That's what is so cool about a track with multiple grooves – the driver can compensate."
After a weekend at high-banked Bristol and a race date at the fast and flatter ACS, teams then move back east to race at half-mile Martinsville. It's a tough three-week run.
"I think that's one of the things that make this sport so unique," Gordon said. "I also think what makes its truly talented teams rise to the top is the challenges of the different types of race tracks.
"To me, it wouldn't matter if you went straight from Bristol to Martinsville. They are like completely two total opposite race tracks, and the challenges that just come with that let alone, [then] throw in a two-mile high-speed oval all the way on the West Coast. Again, you can just go down the list on the schedule and all the way to the Chase and how the Chase for the Sprint Cup is formatted, and you've got tobe a great team, a great driver, a great crew chief. You've got to have it all. That's what I think makes it so tough to win this championship."
Mike Hembree is NASCAR Editor for SPEED.com and has been covering motorsports for 30 years. He is a six-time winner of the National Motorsports Press Association Writer of the Year Award.
https://www.foxnews.com/sports/cup-gordon-seeks-return-to-acs-victory-lane