CUP: Edwards Proposes Driver-Led Drug Testing
By ,
Published September 18, 2015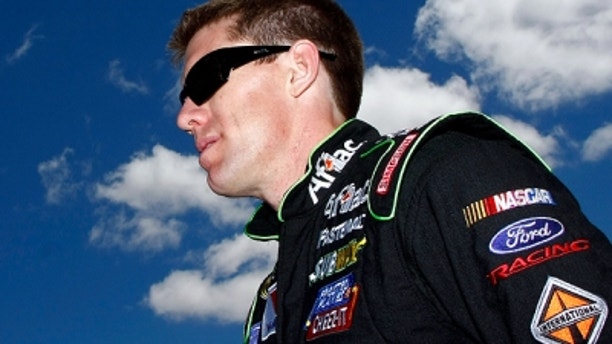 Carl Edwards, one of the Sprint Cup garage's most active drivers in the physical fitness realm, called Friday for NASCAR drivers to have their own drug-testing group to coordinate testing alongside NASCAR's process.
Edwards' comments came in the aftermath of last weekend's suspension by NASCAR of driver AJ Allmendinger, who failed a NASCAR-sanctioned drug test. As part of the NASCAR drug-testing process, Allmendinger has requested that the so-called "B" sample from his test also be tested. A "B" sample positive almost certainly would result in Allmendinger's "temporary" suspension becoming permanent – at least until he completes a NASCAR-sanctioned process for rehabilitation.
Aegis Sciences Corp., based in Nashville, TN, runs NASCAR's drug-testing program.
Edwards said he did not intend to criticize the testing program that is in place but said it would be appropriate and helpful for drivers to fund a separate group that would test the same samples alongside the NASCAR program.
"I think the drivers need to get together, and we need to have our own group that is paid by us, that works for us, to be here in tandem with the NASCAR drug testers and have them test us at the same time so that we have not just an A and B sample, but an A and B testing facility, and we can all agree on that facility," Edwards said. "…If the results are the same, obviously I think we'd all agree that it was a positive, and if they're different, I think it would give a different perspective.
"But I think until we do that, no matter what is found to be positive, no matter what the rest results are, there is always going to be that little question of, 'Maybe there was a mistake.' "
Throughout its 65-year history, NASCAR has opposed any sort of driver collective, and it's unlikely it would agree to the sort of situation Edwards proposed.
Since announcing Allmendinger's temporary suspension Saturday in Daytona Beach, NASCAR's officials have stonewalled questions about the Allmendinger case. There was no indication Friday when results of the B sample might be available, although next week is a good guess. The Sprint Cup Series has next week off.
Mike Hembree is NASCAR Editor for SPEED.com and has been covering motorsports for 30 years. He is a six-time winner of the National Motorsports Press Association Writer of the Year Award.
https://www.foxnews.com/sports/cup-edwards-proposes-driver-led-drug-testing