CUP: Daytona Celebrities An Eclectic Bunch
By ,
Published September 13, 2015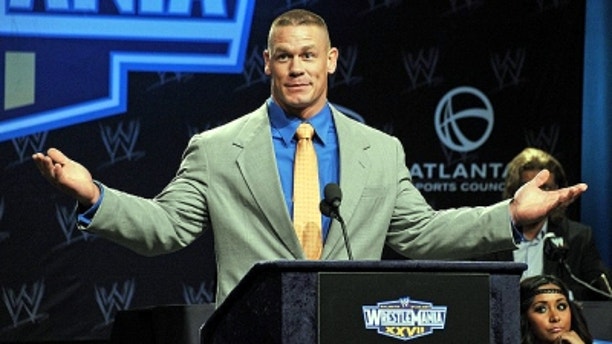 There will be some wild characters on hand for the Daytona 500, even beyond the normal list that includes the Busch brothers, Tony Stewart, Kenny Wallace and assorted garage-area comedians.
The Daytona 500 – it is the Super Bowl of NASCAR, after all – has a history of attracting noteworthy celebrities from the entertainment and sports industries both for "official" pre-race roles and simply as dazzled fans.
Previous 500 guests have included Britney Spears, James Caan, Ashton Kutcher, Whoopi Goldberg, Mariah Carey, Nicholas Cage, Angie Harmon and Matthew McConaughey and a string of football and baseball stars.
This year's celebrity list could easily fill a sitcom cast, with some overflow. And, there also will be someone around to throw people into the turnbuckle, if that's needed.
In fact, the biggest – literally – star of the day will be World Wrestling Entertainment kingpin John Cena, who will wave the green flag to start the 500. In a staged event worthy of professional wrestling, Cena recently accepted an in-person "offer" from driver Carl Edwards to be the race's honorary starter.
In that role, Cena will follow people like Kutcher, Goldberg, Carey and former Sprint Cup champions Richard Petty and Bobby Allison.
The command to start engines will be given by an odd couple – actress Jane Lynch, the sarcastic star of the FOX network show Glee, and Sports Illustrated swimsuit model Kate Upton.
Lynch and Upton are co-starring in "The Three Stooges", an upcoming movie.
Also appearing at the race will be those stooges – actors Sean Hayes, Chris Diamantopoulos and Will Sasso. They play Larry, Moe and Curly, long famous for poking each other in the eyes and bashing each other in the head in the long-running television series.
And, oh, by the way, there also will be a race that day.
Mike Hembree is NASCAR Editor for SPEED.com and has been covering motorsports for 29 years. He is a six-time winner of the National Motorsports Press Association Writer of the Year Award.
https://www.foxnews.com/sports/cup-daytona-celebrities-an-eclectic-bunch