Colts hoping Khaled Holmes can be long-term answer at center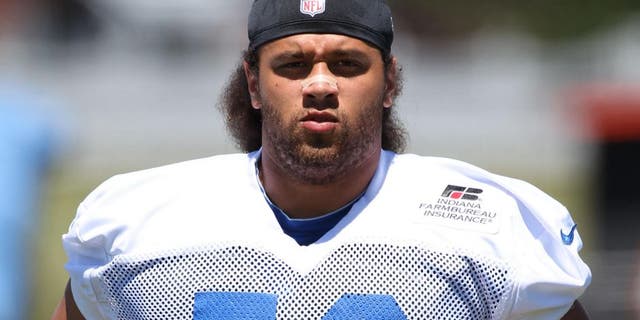 Peyton Manning had Jeff Saturday.
Now, the Colts are looking for a center to pair with franchise quarterback Andrew Luck and third-year player Khaled Holmes is hoping he's the guy.
After starting the final five games of the season, including three playoff games, Holmes is working in training camp to secure the job permanently.
Luck said Holmes has demonstrated he can be a valuable part of the offense.
"He's physical, he's tough, he's smart, he understands football," Luck said, via ESPN's Mike Wells. "I think you can tell he gets more confident with his calls, the more you go on. He sniffs stuff out that I won't see and the other guys won't see. It will be a great call and a positive play because of him. I think he's doing a great job."
Holmes, a fourth-round pick in 2013, was named the starter after the draft last year, but suffered a high ankle sprain in the team's preseason opener against the New York Jets. He fell down the depth chart and was unable to get the starting job back until late in the season.
"For me it seemed like a very long road with some obstacles and hurdles that got in my way that were out of my control," Holmes said. "It was a great opportunity to get that experience (in the final five games), which is so valuable and you can't really re-create it any other way besides actually getting out there, especially in playoff atmosphere."
Holmes said he hopes he'll eventually be viewed in connection with Luck the same way Saturday was with Manning. Saturday spent 13 seasons with the franchise and will be inducted into the team's Ring of Honor this season.
"That's something in my back of my head," Holmes said. "At the same time that's really not my main focus, main goal for myself, especially the tumultuous first couple of years I had. I'm focusing on competing and earning a spot and establishing myself as a quality player in this league and earning respect and then we can go from there."
(h/t ESPN)