Cleveland Browns preview (No. 26): Will the downward spiral continue?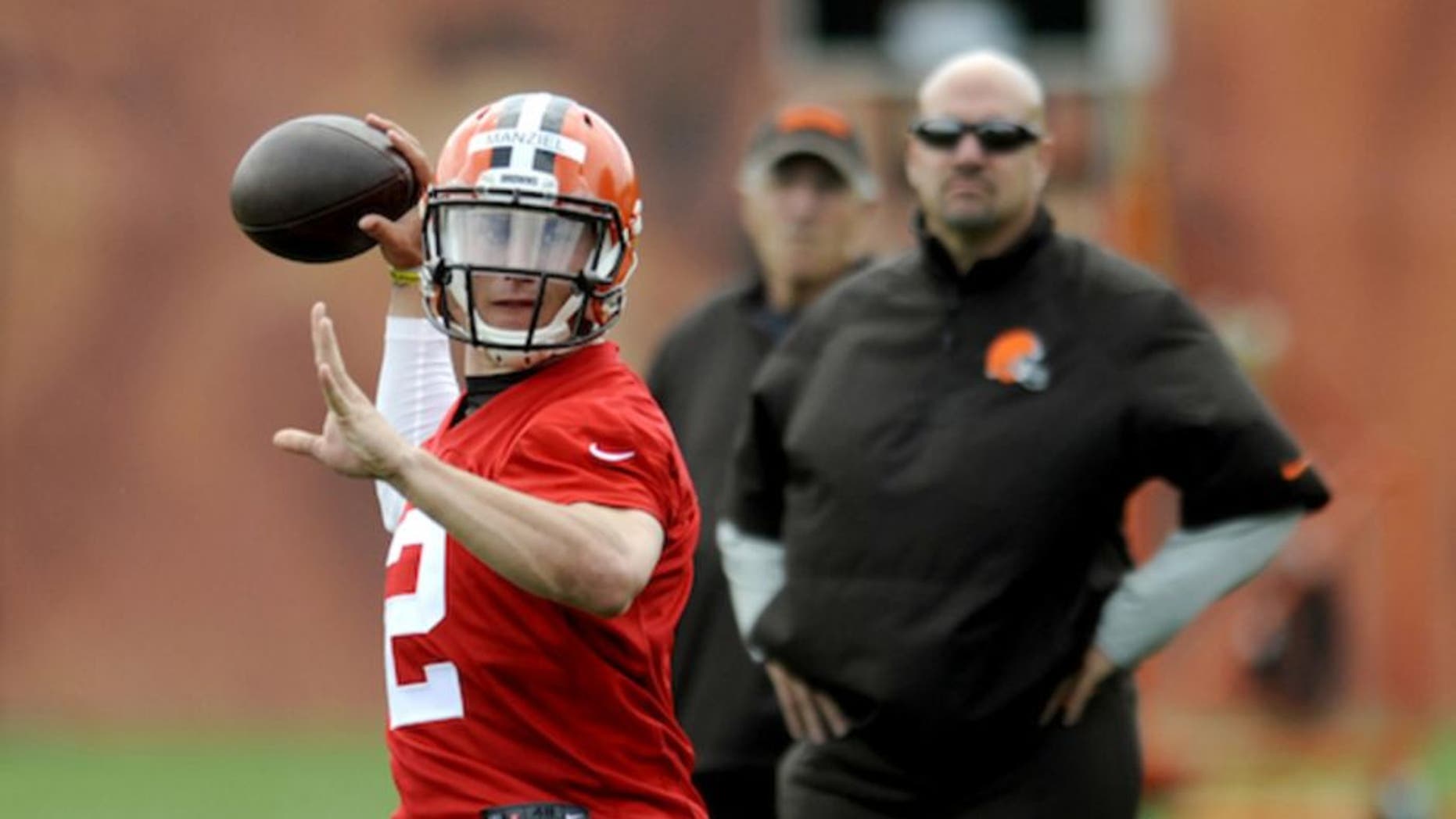 Our 2015 NFL preview series ranks every team, from worst to first. Today: the No. 26 Browns.
2014 Record: 7-9
Head coach: Mike Pettine (second season)
Key arrivals: Josh McCown (quarterback), Brian Hartline (wide receiver), Randy Starks (defensive tackle), Eric Olsen (center), Dwayne Bowe (wide receiver), Robert Housler (tight end), Tramon Williams (cornerback), *Danny Shelton (nose tackle), *Cameron Erving (center)
(Note: *- denotes rookie)
Key departures: Miles Austin (wide receiver), Jordan Cameron (tight end), Sione Fua (defensive tackle), Brian Hoyer (quarterback), Jim Leonhard (free safety), Paul McQuistan (guard), Ahtyba Rubin (defensive tackle), Jabaal Sheard (defensive end), Buster Skrine (cornerback)
2015 Schedule (ET):
Sept. 13: at New York Jets 1:00 pm
Sept. 20: Tennessee 1:00 pm
Sept. 27: Oakland 1:00 pm
Oct. 4: at San Diego 4:05 pm
Oct. 11: Baltimore 1:00 pm
Oct. 18: Denver 1:00 pm
Oct. 25: at St. Louis 1:00 pm
Nov. 1: Arizona 1:00 pm
Nov. 5: at Cincinnati 8:25 pm
Nov. 15: at Pittsburgh 1:00 pm
Nov. 22: BYE
Nov. 30: Baltimore 8:30 pm
Dec. 6: Cincinnati 1:00 pm
Dec. 13: San Francisco 1:00 pm
Dec. 20: at Seattle 4:05 pm
Dec. 27: at Kansas City 1:00 pm
Jan. 3: Pittsburgh 1:00 pm
TRAINING CAMP QUESTION: Can a speed option emerge out of the wide receiver corps?
The Browns lost their game-breaker when Josh Gordon was suspended for the entire 2015 season after another violation of the league's substance-abuse policy. Their top three wideouts are free-agent signings Dwayne Bowe (Kansas City) and Brian Hartline (Miami) with Artrell Hawkins returning as the slot receiver. Travis Benjamin has wheels but also hasn't caught more than 18 passes in any of his first three seasons with the Browns. Terrelle Pryor, who is converting from quarterback, has a legitimate shot at making the roster as a "slash" player based upon Cleveland's shaky receiver depth.
IF EVERYTHING GOES RIGHT:
The quarterback -- be it Josh McCown or Johnny Manziel -- finally takes control of the offense and becomes a dependable playmaker. The drafting of Erving settles the offensive line issues, allowing running backs Terrance West, Isaiah Crowell and rookie Duke Johnson to flourish. The additions of Dwayne Bowe and Brian Hartline provide some dependable targets at receiver and the defense gets a boost with the drafting of Shelton. If all of these happen, the Browns could contend – just contend – for a playoff spot in a very tough division.
IF EVERYTHING GOES WRONG:
The defensive secondary falls apart, allowing teams to score at will in the passing game. The quarterback position continues to wilt and the Browns go from 7-9 in 2014 to much worse. If the Browns put together a season with five wins or less, expect Pettine's job to be in jeopardy and the notoriously trigger-happy Browns to go looking for yet another head coach.
BREAKOUT PLAYER: Cornerback Justin Gilbert
Gilbert's poor attitude and commitment toward bettering himself were even more alarming than his on-field rookie struggles. Gilbert has taken a more professional approach toward his career during the offseason and recently told Browns media that he was "humbled" from the experience. If he truly has matured, Gilbert has the physical tools to form a top-notch cornerback tandem with Joe Haden.
CIRCLE THIS DATE ON THE CALENDAR GAME: vs. Denver in Week 6 (1 pm ET/October 18)
Now the Broncos' top football executive, John Elway returns to Cleveland more than 20 years after leading Denver to victory over the Browns in playoff games nicknamed "The Drive" and "The Drive II." Cleveland hasn't reached an AFC Title game since. Defeating Denver would move the Browns one step closer to getting there.
ALEX MARVEZ'S PREDICTION: 5-11, last place
Suspect – at best -- quarterbacking situation? Check. First-time offensive coordinator in John DeFilippo? Check. A lack of big-play receiving targets? Check. Add those three concerns together and the Browns could be headed for a disaster in the passing game even if the 36-year-old McCown plays lights-out like he did with Chicago for a portion of the 2013 campaign. Still, not all is doom-and-gloom as usual in Cleveland. The Browns have the makings of a strong rushing attack with the 2015 third-round pick Johnson flashing during offseason workouts and standout center Alex Mack returning to the starting lineup after missing half of last year with a leg injury.
The Browns already feature the NFL's best left tackle in Joe Thomas and used one of their two first-round picks on versatile Cam Erving, who will begin his NFL career at right guard. Cleveland plied its other first-round pick on nose tackle Danny Shelton, whose strength and short-range quickness for a 346-pounder should help the Browns improve what was the league's worst run defense last season with opponents averaging 141.6 yards a game.
Cleveland surprised last season with a 7-4 record until dropping its final five games for a fourth consecutive last-place finish in the AFC North. There's little reason to believe that streak will end with Pittsburgh, Baltimore and Cincinnati better positioned to reach the postseason.