Chelsea thwart West Brom to claim first Premier League win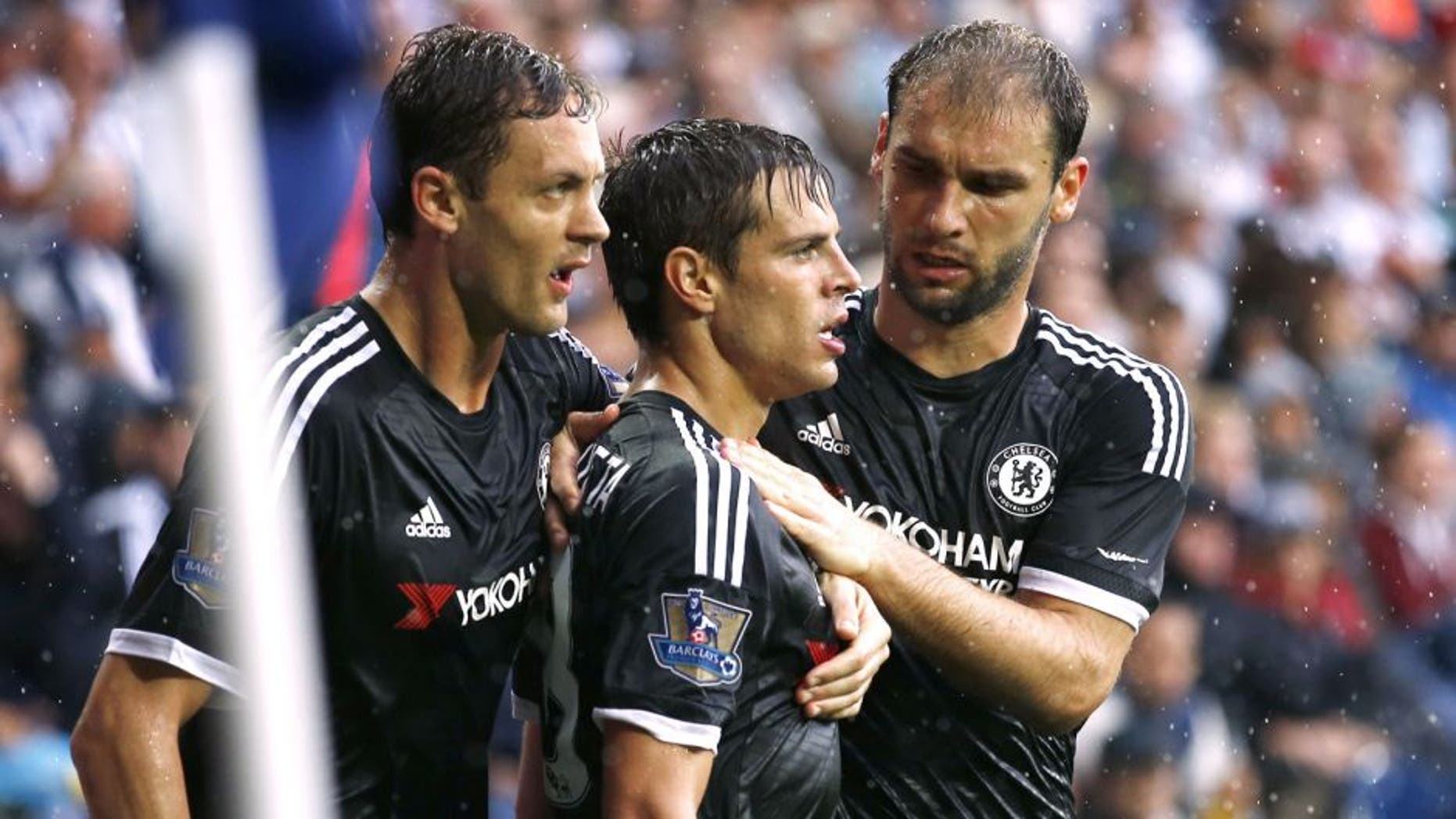 WEST BROMWICH, England --

First half goals from Spanish international Pedro, Diego Costa and Cesar Azpilicueta were enough for Chelsea to defeat West Bromwich Albion 3-2 at The Hawthorns on Sunday.
"Chelsea are back!" chanted the away fans, but it isn't -- or at least not the dogged, remorseless Chelsea that won the league last season. Chelsea did prevail in a breathless game to register its first league game of the season, and that should inspire a measure of relief, but there was little here to suggest the worries of the past month are definitively over.
Pedro, in his first game since Chelsea signed him from under the nose of Manchester United, was a lively presence throughout, scoring one and setting up another. Although the Blues held out to win after being reduced to 10 men, there was a skittishness about Chelsea that exposed an unexpected defensive vulnerability and uncharacteristic self-doubt.
This was not the sort of controlled performance in which Chelsea specialize -- something that couldn't entirely be but down to the rain that began falling shortly before kickoff and left the surface extremely slick. There were real nerves at the back, a strange lack of basic organization at set-plays and a jumpiness that led both to an early penalty for West Brom and to a red card for John Terry, for whom the fact he lasted nine minutes longer than last week will be little consolation.
If that early penalty had gone in for West Brom, who knows what it might have done to this strangely fragile Chelsea. Cesar Azpilicueta seemed to have held Callum McManaman up but Matic came clattering in and clumsily upended the West Brom winger. James Morrison shooed away Chris Brunt to take the penalty, hit it straight down the middle and saw the ball cannon up off the goalkeeper's legs and over the bar. As Craig Dawson then headed a right-wing free-kick just over, this seemed the vulnerable, self-doubting Chelsea of the first three weeks of the season.
Terry, meanwhile, gave one of his least assured performances in a Chelsea shirt after his substitution last week. Even before being sent off for pulling down Salomon Rondon as he chased a Brunt pass nine minutes into the second half, Terry struggled to deal with the movement and power of the Venezuelan who enjoyed a highly promising debut. As he put one clearance out of play when a pass to Fabregas was free, Jose Mourinho responded with evident anger.
But Chelsea rode its luck and took a 20th minute lead, Pedro playing a one-two with Eden Hazard and seeing his shot squirt in off Jonas Olsson. It doubled that advantage 10 minutes later, Willian leading a break, pushing the ball out to Pedro, who had cleverly delayed his run and then hit a cross-shot that Diego Costa slid in.
For Chelsea teams of the past, that would surely have been the signal to close the game down, but within five minutes West Brom had pulled one back, a goal born of its own neatly purposeful approach and also -- again --€" of Branislav Ivanovic's lack of pace. Rondon held the ball up intelligently as West Brom broke, and as the ball was worked to the left, McClean got in behind Ivanovic to clip a cross to the back post. Rondon hooked the ball back to the edge of the box where Morrison, strangely neglected by Matic, thumped a low shot past Thibaut Courtois.
But six minutes later, Chelsea seemed to have taken control again as Diego Costa chested off Cesc Fabregas's forward ball for Azpilicueta to sweep in his first Premier League goal. It was chaotic, harum-scarum, highly entertaining fare, but the assumption was that Mourinho would close everything down at halftime. He didn't.
Five minutes after Terry's red card, Morrison got his second, glancing in McMamanan's cross after Ivanovic had been exposed again. The fullback has had an awful start to the season and it would be no great surprise were he to be left out for Chelsea's home game against Crystal Palace next week. He was dumped on his backside by McManaman with 14 minutes remaining, but the winger curved his shot just wide.
Serge Gnabry mishit an effort from the edge of the box at Courtois, Brunt slashed over after creating space for himself and Rondon had a close range volley charged down but West Brom's chances were limited to shots from outside the box and the odd cross that flashed across goal. Eventually, once the pressure was really on, Chelsea rediscovered something of its old self, but it had to look awfully hard.