Channel Numbers for Clippers-Jazz Game 5
By ,
Published April 25, 2017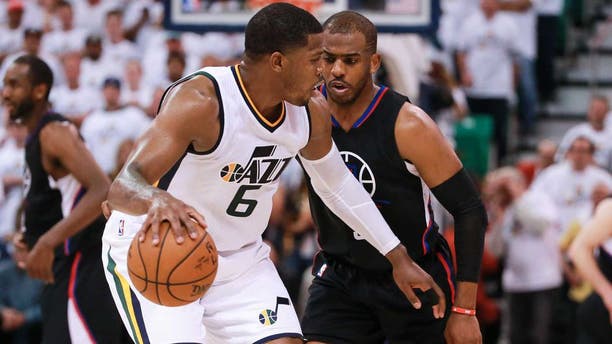 PROGRAMMING ALERT
Jazz at Clippers Game 5 available LIVE on FSSD Alternate Channels
Padres at Diamondbacks available LIVE on FOX Sports San Diego
FOX Sports San Diego's live coverage of Tuesday's NBA Playoff game between the Los Angeles Clippers and Utah Jazz will be available to viewers on the network's various alternate channels, as well as FOX Sports GO. Coverage begins at 7:00 PM PST with Clippers Live.
FOX SPORTS SAN DIEGO ALTERNATE CHANNELS
AT&T U-verse: 691, 1691 (HD)
DIRECTV: Channel 694-1 (SD and HD)
Dish: 449, 9519 (HD), 412-37 (Hopper)
Cox Cable: N/A Viewers can watch on FOX Sports GO
Spectrum: 325
FOX Sports San Diego's live coverage of the San Diego Padres vs. Arizona Diamondbacks game will remain on FSSD's regular channels beginning at 6:00 PM PST with Padres Live.
FOX SPORTS SAN DIEGO
AT&T U-verse: Channels 776 and 1776 (HD)
Cox Cable: Channels 56 and 1056 (HD)
DIRECTV: Channels 694 and 694-1 (HD)
Dish: Channel 408
Spectrum: 322
https://www.foxnews.com/sports/channel-numbers-for-clippers-jazz-game-5