Capitals' Marcus Johansson says Kris Letang should be suspended for hit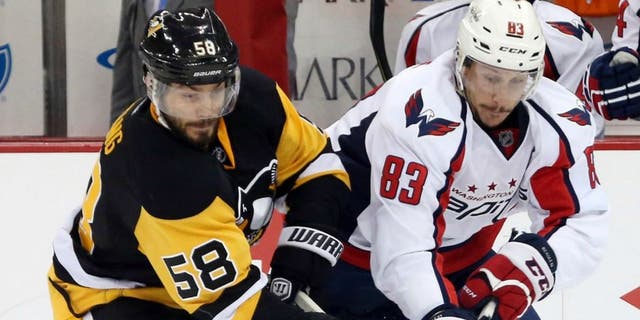 Washington Capitals left winger Marcus Johansson wants justice after a dirty hit from Kris Letang in Game 3 against the Pittsburgh Penguins.
Letang took a two-minute interference penalty on the play, in which he nailed an unsuspecting Johansson as he skated into the offensive zone, having given passed the puck away well before.
The hit calls to mind a brutal hit from Brooks Orpik in Game 2 that led to the Washington defenseman being suspended for three games. The Penguins' Olli Maatta missed the rest of Game 2 and sat out Game 3 after that hit.
Johansson returned to the game (though the Penguins still won) and says he was cleared of a concussion, but he still thinks Letang deserves to be suspended for at least one game.
"Yeah, I'd say so," he told reporters. "He obviously leaves his feet and hits me in the head. That's the kinds of plays you want out of the league."
Washington coach Barry Trotz probably won't hold his breath for a suspension; he seems to think the league has a bias toward the Penguins in this series. Here's what he told reporters after Orpik was suspended:
"I'm disappointed, but not surprised (by the suspension length) based on who we're playing and all that."
Letang dismissed the notion that his play was dirty at all.
"I saw him coming full speed I tried to step up in the middle. Things happen fast," Letang told reporters.