Can Rays' Myers rebound from flub?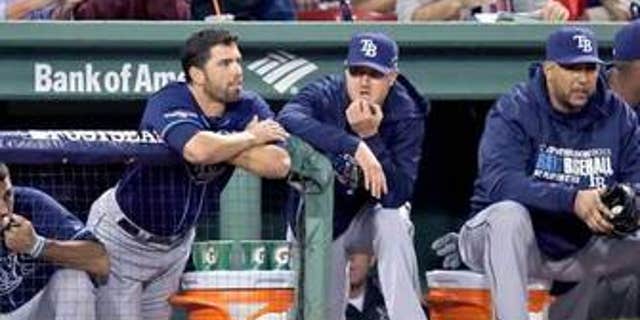 BOSTON – Mariano Rivera was 34 when he blew the save in Game 4 of the 2004 American League Championship Series, the game that made Dave Roberts a legend in New England, the game that triggered the Red Sox's historic comeback from a three-games-to-none deficit.
Five months later, on Opening Day 2005, Red Sox fans "thanked" Rivera, giving him a mock standing ovation at Fenway Park. Rivera smiled, laughed and tipped his cap. The playful back-and-forth continued over the years, and the Red Sox even used Game 4 as the centerpiece of their retirement ceremony honoring Rivera last month.
Wil Myers is 22. He isn't a four-time World Series champion and perennial All-Star like Rivera was in '04. He is a rookie, albeit a talented one, the likely AL Rookie of the Year. And now he will be tested at Fenway perhaps even more than Rivera was tested, certainly for the rest of this series, and maybe for the rest of his career.
The chants of "My-ers!" started almost immediately after the Rays right fielder backed off a flyball in the fourth inning, triggering a five-run rally and eventual 12-2 Red Sox victory in Game 1 of the Division Series. The chants continued for much of the game, and are practically guaranteed to resume during Game 2 on Saturday.
If Myers' composed postgame reaction was any indication, if his blithely confident manner is any indication, he's going to be fine. But no less an authority than Rays third baseman Evan Longoria said that Myers isn't going to escape easily.
Rays super-utility man Ben Zobrist told Myers as much on the bench, "and all of us kind of reiterated the fact that he's not going to hear the end of it," Longoria said. "Tomorrow he's going to hear it. If we come back here, they're going to remember. These are good baseball fans. They understood the importance of that play and how it changed the course of the game. Hopefully he's able to turn the page."
Longoria continued, "These are the moments where you either fold up the tent or you rise to the occasion. I'm hoping that he rises to the occasion. We need him. I think that he will be able to respond. He's a tough kid. If you take the positive out of it and say, 'That's not going to happen again, I'm not going to make that mistake,' then you're better off, you're a better player for it."
Myers had a different type of misplay in a game against the Rangers on Sept. 18, making a nonchalant retrieval of a single by Adrian Beltre in the 11th that allowed Elvis Andrus to score from first base. He vowed that night that he would never make the same mistake again. And he was equally accountable Friday, saying he should have taken control on the ball that David Ortiz hit between him and center fielder Desmond Jennings, saying he should have made the catch.
Myers called for the ball initially, waiving off Jennings. But at the last instant Myers backed off, explaining later that he hesitated after seeing Jennings out of the corner of his eye. No one shouted to distract him, Myers said, not any fan, not anyone in the Red Sox's bullpen. No, Myers just miscalculated, just made a mistake.
It wasn't the Rays' only defensive blunder in the fourth; they made three others, including left-hander Matt Moore's failure to cover first base quickly enough on a two-out grounder that might have ended the inning with the score tied. But Myers' blunder was the most spectacular, and drew the most attention.
The visiting clubhouse at Fenway is so tiny, postgame interviews are conducted on the concourse just outside, in an area shielded off from fans. Myers literally was backed up against a brick wall as he faced reporters, answering question after question, cameras and microphones pointed at his face.
Once the scrum was over, he did one-on-one television interviews with TBS and MLB Network, never straying from his story, never making excuses. Jennings eventually came to the interview area as well, and offered little sympathy when asked if he felt badly for Myers, saying, "It's a play that we should make. It's not about feeling bad. It's about winning."
Myers would be the first to agree, and don't be surprised if he hits a home run Saturday; he has the right makeup to put this day behind him. Teammates routinely are amused by his bravado; Longoria told me in August, "Let's just say he doesn't lack confidence in himself." Longoria smiled as he said that, adding that Myers was harmless, naive in an endearing way.
Well, Myers lost some of innocence on Friday, saying of the chanting at Fenway, "It was tough, you know? I have never had something like that before, but it's one of those things where you've got to expect to hear it from this kind of crowd." His teammates counseled him in the dugout. But in the end, Myers will be on his own.
"It was a learning moment," Longoria said. "We need him to have a clear mind and be able to continue playing the game and be focused. Everybody kind of made a point to go up to him and let him know that we all make mistakes, and that you've got to be able to turn the page, especially in a series like this one."
The series resumes on Saturday. Game 2, Rays vs. Red Sox. The first day of the rest of Wil Myers' career.