Busch needs wins to nab Chase title
By ,
Published September 13, 2015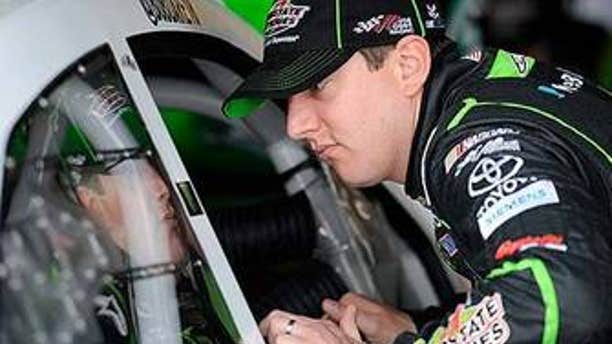 Kyle Busch's tune changed after Sunday's race at Dover International Speedway.
Busch entered the weekend believing it was possible to win the Chase for the Sprint Cup without winning the race. That was before the two drivers ahead of him in the point standings -- Matt Kenseth and Jimmie Johnson -- won the first three races.
Sure, Kenseth, Johnson and Busch have established themselves as the clear-cut favorites in the battle for the 2013 title. There's already a 27-point deficit between third-place Busch and fourth-place tandem Kevin Harvick and Jeff Gordon.
But with the top three contenders separated by just 12 points, the man left standing at Homestead-Miami Speedway will inevitably be buoyed by wins.
Joe Gibbs Racing teammates Kenseth and Busch have the same average finish after the first three races of the Chase (third) and the same average finish for the season - 12.8. However, Kenseth's current 12-point advantage stems from three additional wins and more laps led (181).
Every point is critical in the playoffs. Kenseth established a substantial 14-point lead after earning max points (48, for the win and leading the most laps) in the first two races. Johnson followed suit with his victory Sunday at Dover and leapt over Busch while adding four points to his cushion in the process. Kenseth and Johnson have led laps in the first three Chase races while Busch failed to make it to the point - and gain a bonus point - at New Hampshire.
Sunday Busch led 30 of 400 laps at Dover, but to stay in the hunt the No. 18 Toyota will have to win.
"Certainly, I wish we definitely could've gotten more," Busch said after finishing fifth at Dover. "We probably could've if I could've got the outside lane on the final restart I probably could've finished third, but we didn't get that. We had to fight through it and pass a couple cars the hard way, and we ended up fifth. It's certainly the finish that our car was today.
"It's frustrating to be fifth, but yet you look at the grand scheme of things and it's three straight top-five's to start the Chase so not bad."
"Not bad", however, won't win Busch the championship.
Crew chief Dave Rogers, who has led the No. 18 Joe Gibbs Racing team since the end of the 2009 season, knows "we've got a Chase contending team, but it's one week at a time". With the team barely making last year's Chase, Rogers used the 10 races as a mock run for this year's contest.
"Last year we proved to ourselves that we can perform in these final 10. So you come into the Chase -- obviously, winning the number of races we did, leading the number of laps we did this season, knowing we performed well the final 10 last season -- you come into the Chase with a lot of confidence, a lot of momentum and it helps to have your teammate, the 20 car, up there running too because it just emphasizes that you've got the equipment.
"When two cars can do it out of the same stable, that shows that your Toyotas are really fast and that gives you even more confidence."
Although the No. 18 team has qualified for the playoffs in three of the past four seasons, Busch has never won a race while in the Chase. His only victory among the final 10 races of the season came at Phoenix in 2005. But Rogers is looking at the next seven races as seven opportunities to win.
"The first three were good," Rogers said. "But we've got to back that up for seven more weeks, and we've got to put this 18 car -- we've got to put it in Victory Lane here sooner or later."
For now, Busch says he's not "paying attention to the points" this early in the Chase. He believes as steady as his team has been the potential remains for the No. 18 to continue to contend at the same level it's performed at in the first 29 races.
"I could guess who's first, second and third in points, but I really don't care right now," Busch said. "We're just with the mindset to continue on the path that we have all year long and that's to continue to run consistently and to get good finishes and if we can win, we try to win.
"But, right now it's going to be the guys who are upfront each and every week and certainly it may take a couple wins in this deal to win it, but I've also felt all along that if you finish second every single Chase race then you could have a really good shot at winning a championship that way. I would certainly take that over a Chase win and then following that up by a DNF."
That's unless Kenseth or Johnson is finishing first. Kenseth has won at all of the remaining tracks in the Chase except Martinsville Speedway. Johnson boasts victories on every Chase track except Homestead. And Busch? In the Cup Series, Busch's wins at Chase tracks include Charlotte, Texas and Phoenix.
Busch insists he can win the title without winning in the final 10 races. Certainly, Tony Stewart accomplished the task in 2005, but for Busch to believe he can pull off the feat against Kenseth and Johnson, both who have Cup trophies on their mantle, is simply naïve.
"You've got to be able to pull through in all of these races and you've got to have a little bit of luck go your way," Busch said. "You've got to have the execution of everything go your way. Like I said, it starts with coming off the hauler and getting good practice sessions going, qualifying well, trying to always stay upfront so then you're not in the back and racing against guys who you shouldn't be racing against.
"Anything can happen in this sport and we've seen that time and time again over the years. Where you don't expect something to happen and then all of a sudden something does happen. So, I've literally had things fall out of the sky this year and hit my race car. So, just be ready for anything."
Busch is an immense talent. But it will take more than preparation and a solid game plan to surpass former champions such as Johnson and Kenseth. For Busch, the road to the title must first run through Victory Lane.
https://www.foxnews.com/sports/busch-needs-wins-to-nab-chase-title