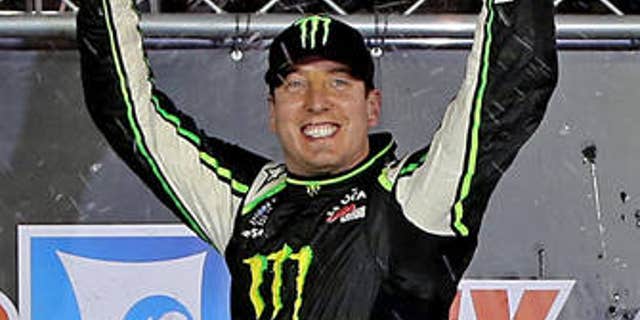 The crowd showered Kyle Busch with boos Friday night as he celebrated yet another Bristol Motor Speedway win in Victory Lane.
"Whether you're booing or cheering, glad you're here," Busch said over the public address system. "Hope you're booing more tomorrow when we take home another trophy."
It wouldn't be out of the question for Busch, who will be going for a Bristol sweep in Saturday night's Sprint Cup Series race. He won Wednesday night's Truck Series race and dominated Friday night's Nationwide Series race, starting from the pole and leading 228 of the 250 laps.
"You've got to win two to go for three, so here's two," said Busch, who has 15 career national wins at Bristol and swept the week in August 2010.
His win Friday night was his 60th Nationwide series win of his career, and 120th spanning NASCAR's three national series. It was also his 15th of the season after winning just one race in all three series last season.
"It comes from preparation, it comes from the shop, it comes from practice here," said Busch, who also praised crew chief Adam Stevens. "Adam and I, we work real well together."
Brad Keselowski finished second and was followed by Austin Dillon and Justin Allgaier.
Kyle Larson was fifth, while Trevor Bayne was sixth and followed by Ty Dillon and Kasey Kahne. Brian Scott and Elliott Sadler rounded out the top 10.
Sam Hornish Jr. entered the race as the Nationwide Series points leader but had a spark plug wire problem and finished 12th.
Busch won't have such an easy go of it in Saturday night's Cup race after a spin in qualifying prevented him from making a lap. He'll start last in the 43-car field and have to fight hard to avoid being lapped early on the .533-mile bullring.
"It's a whole different ball game tomorrow, for sure," he said. "In qualifying, I just overstepped it, got too high, I was a little loose and I just screwed up. It's not like I haven't come from deep in the field before, but it's going to be a tall order."