Bethe Correia trash-talks Ronda Rousey in heated UFC 190 face-off
By , Damon Martin
Published September 18, 2015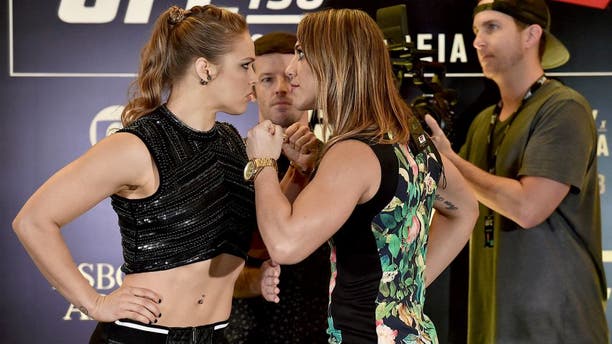 Bethe Correia might be a massive underdog -- possibly the biggest in UFC history -- but that's not going to stop her from going after women's bantamweight champion Ronda Rousey with everything she's got leading into their fight Saturday night.
Thursday marked the first time the two fighters came face to face since a heated staredown several months ago after their bout was announced for UFC 190. And it didn't take long for the words to start flying.
But it wasn't Rousey who was flapping her gums and trying to intimidate her Brazilian opponent.
Correia rushed the stage, got nose to nose with Rousey and proceeded to talk trash directly to her face before the fighters separated. Unfortunately, there's not enough audio to hear what she was saying, and considering Correia doesn't speak English, we can't promise we would be able to translate.
Regardless, Correia is definitely fired up and not backing down from the challenge of trying to get in Rousey's head.
The fighters will face off again on Friday during the UFC 190 weigh-ins. A special 90-minute show airing live on FOX Sports 1 will document the event starting at 4:30 p.m. ET.
https://www.foxnews.com/sports/bethe-correia-trash-talks-ronda-rousey-in-heated-ufc-190-face-off