Astros' Cosart can't shake off early jitters, loses 7-3 to Marlins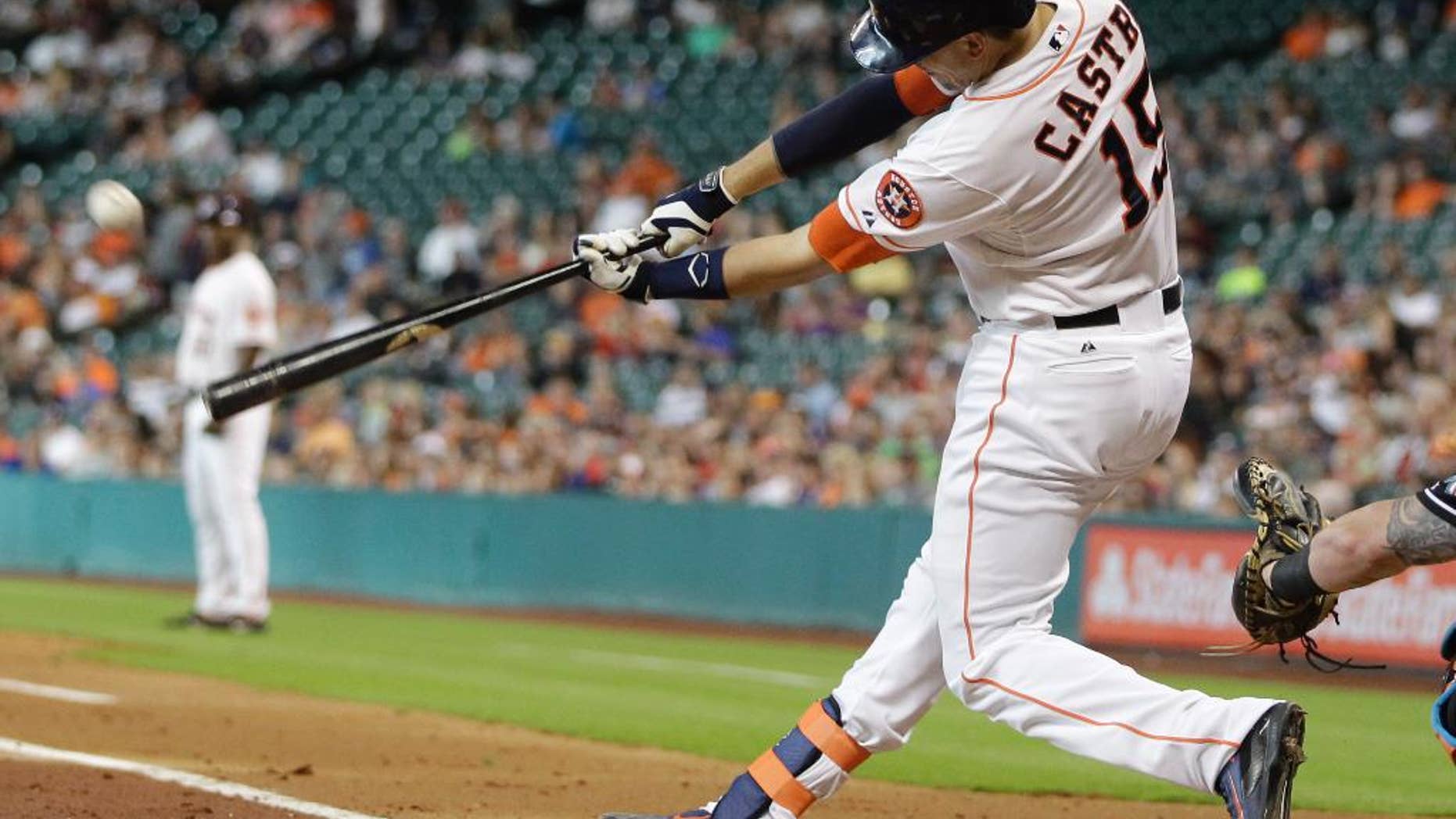 HOUSTON – Jarred Cosart's next start will be about toning it down in the first two innings.
Plagued by early-inning jitters and command issues, Cosart gave up five runs in the first two innings, and the Houston Astros couldn't recover and lost to the Miami Marlins 7-3 on Saturday night.
"It was a tale of two innings, obviously," Cosart said. "Pretty self-explanatory. It's the same as always when I have a bad game. I just didn't throw strikes."
Jason Castro had two hits, including a two-run home run in the first that put the Astros up 2-1. Jose Altuve added three hits for Houston, which lost its fourth straight and fell a season-high 20 games below .500 (42-62).
Giancarlo Stanton hit a three-run double, and Jordany Valdespin added a two-run home run to power Miami.
Stanton's double in the second inning broke a 2-2 tie. Christian Yelich had two hits, including an RBI single as part of the four-run frame. Valdespin hit his first homer of the season in the ninth off Chad Qualls.
Shaky starts are nothing new to Cosart (9-7), who has struggled in July, allowing 21 runs in 21 1-3 innings over four starts.
Cosart's wildness got him in trouble when he walked the bases loaded in the second, setting up run-scoring hits by Yelich and Stanton.
Casey McGehee had given Miami a 1-0 lead with an RBI single in the first.
Cosart settled in after that forgettable second and, stayed in the game longer than expected — going 5 2-3 innings after throwing over 50 total pitches in the opening two frames.
"That puts you behind the eight-ball," Astros manager Bo Porter said. "I looked up after the second inning, I didn't think he was going to make it to 5 2-3.
"To his credit he was able to regroup and give us some length, which was very much needed."
Porter didn't hesitate to point out the source of Cosart's early troubles.
"I think it starts with fastball command," Porter said.
Cosart allowed five runs and seven hits, struck out four and walked four.
The Astros went 1 for 9 with runners in scoring position against Koehler and finished 1 for 12 overall. Houston left runners in scoring position in each inning from the second to the seventh.
The third inning was particularly frustrating for Houston.
Altuve and Marwin Gonzalez started the third with singles before Carter lined a ball to Marlins starter Tom Koehler that went off the right-hander's back and was caught by shortstop Adeiny Hechavarria. Koehler struck out Castro and Matt Dominguez to end the inning.
"It's just one of those things," Porter said. "We had some opportunities. We were just not able to get the big hit."
Castro was quick to admit the offense didn't give Cosart the run support he needed.
"He did a great job settling down," Castro said. "He started throwing better as the game progressed. I think he was a little amped up before the game."
His advice for Cosart?
"Start in the third, basically, his next outing," Castro said. "Skip those first two and make sure he gets those first two-inning jitters out of the way."
Koehler (7-7) gave up three runs and nine hits with two strikeouts in five innings.
NOTES: After the game, Houston placed RHP Josh Zeid on the disabled list with a left foot injury. The Astros also optioned RHP Brad Peacock to Triple-A Oklahoma City to work on his fastball command, Porter said. LHP Brett Oberholtzer will start in Peacock's place Monday against Oakland. ... Houston RHP Collin McHugh will be activated from the disabled list to start on Sunday. McHugh, 4-8 with a 3.28 ERA, has been out since July 7 because of an injury to his right middle finger. McHugh, who last started in the majors on July 6 in a loss at the Los Angeles Angels, threw five innings in a rehab outing Tuesday for Oklahoma City. Miami will start RHP Jacob Turner, 3-6 with a 6.03 ERA. ... Gonzalez returned to the lineup after missing Friday's game because of soreness in his right hamstring.