Andy Murray treating Olympics like a Grand Slam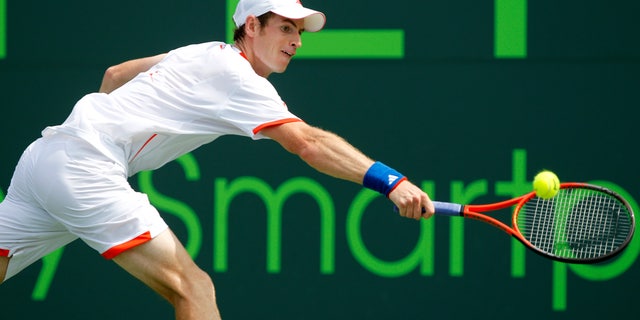 LONDON – Andy Murray believes the tennis tournament at the London Olympics will be viewed by the sport's top players as a fifth Grand Slam on this year's hectic calendar.
The fourth-ranked Briton, who has never won a major, lists Wimbledon and the Olympics as his priorities this season, above the French Open and U.S. Open.
"Tennis at the Olympics has become a big deal," Murray said Tuesday. "Everybody plays it now. Ten or 15 years ago, guys were skipping the Olympics. Everybody is playing it now."
Murray's only previous experience at an Olympics was a disappointing one.
He was enjoying the best run of his career coming into the 2008 Beijing Games. He had a first appearance in a Grand Slam quarterfinal at Wimbledon with his first Masters series title in Cincinnati.
However, Murray was sluggish in a first-round loss to Yen-hsun Lu of Taiwan, ranked No. 77 at the time.
"I was very nervous before I played, which normally tells you something of the significance of it," Murray said.
"I didn't play well but it was one of the best experiences I have had. Being around all the top athletes in the world, going back to where you are staying in the village and seeing the chart on the wall where all the medals have been won -- it would be nice to be part of that."
Even winning bronze would mean a lot to Murray.
"You see the emotions of the guys. Djokovic won the bronze medal last time and it was a huge deal to him," Murray said. "If you lose in the semifinals of a Grand Slam, you are disappointed. If you win a bronze medal at the Olympics, it's huge.
"Olympics is a different feeling and a different atmosphere than just a regular tournament," Murray added. "You feel like you are playing for your country. On tour, you are kind of playing for yourself. At the Olympics, when you see all the flags and being part of the opening ceremony, it's just different."
With the Olympics coming between Wimbledon and the U.S. Open, Murray has a hectic schedule this summer.
He will also be defending his title at the Queen's Club -- the grass-court warmup tournament for Wimbledon -- after committing himself to the event for the next five years.