Amanda Nunes willing to beat Ronda Rousey twice to prove she's the best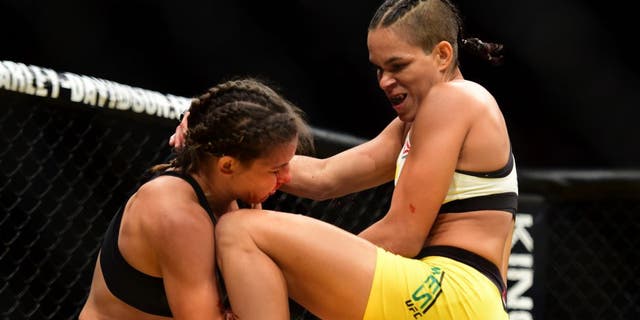 A few years ago when Chris Weidman was calling for a fight with Anderson Silva, the brash middleweight contender was so confident that he would defeat the longest reigning champion in UFC history that he offered an immediate rematch before they ever stepped into the Octagon together.
Weidman proved his point by knocking out Silva in the second round and then defeated him again in the rematch six months later.
Amanda Nunes is taking a page out of Weidman's book because as she prepares to face Ronda Rousey at UFC 207, the women's bantamweight champion is more than happy to win in December and then offer an immediate rematch.
Rousey is the reason the UFC opened up a women's division in the first place and she ran roughshod over every challenger that was put in front of her for 12 straight fights.
Of course, Rousey lost some luster after her knockout loss to Holly Holm last November, but the former champion is still a solid favorite according to the odds makers and that's why Nunes is taking this matchup very seriously.
"People want to see Ronda Rousey come back and it's the best time. I think she deserves this. She was a very dominating fighter. I think she deserves not only one but two (title shots)," Nunes told FOX Sports.
"She's going to lose and I'm going to give it to her again in an immediate rematch."
Prior to her loss to Holm last year, Rousey was the only women's bantamweight champion the UFC had ever known and she remains the only fighter in the division to actually defend the belt. Rousey did it six times while mauling four opponents in a row in a combined two minutes and 10 seconds.
That's why Nunes is taking this fight very seriously and not looking at Rousey as some kind of damaged opponent after she suffered a tough loss last year. Rousey's past dominance earned her the chance to compete for the belt in her first fight back and Nunes had no problem granting her the opportunity.
Of course, Nunes' desire to fight Rousey twice in a row could also be as much about financial motivation as it is competitive drive.
Rousey is by far the most talked about fighter in the women's division and shares the marquee as the biggest star in the entire sport alongside featherweight champion Conor McGregor.
Nunes will likely cash-in with a share of the pay-per-view profits for her fight with Rousey so facing her twice in a row would undoubtedly add a few extra zeroes to her back account.
"I believe she deserves it," Nunes said. "Not only one, but right away the rematch. I'm going to beat Ronda Rousey and then I'm going to give her the rematch.
"Because, Ronda Rousey is going to help make this the most huge card of the year at the end of the year. Everybody has been waiting for this moment. People love Ronda Rousey and she's going to make a huge favor for me."