Alabama just made the playoff committee look smarter than all of us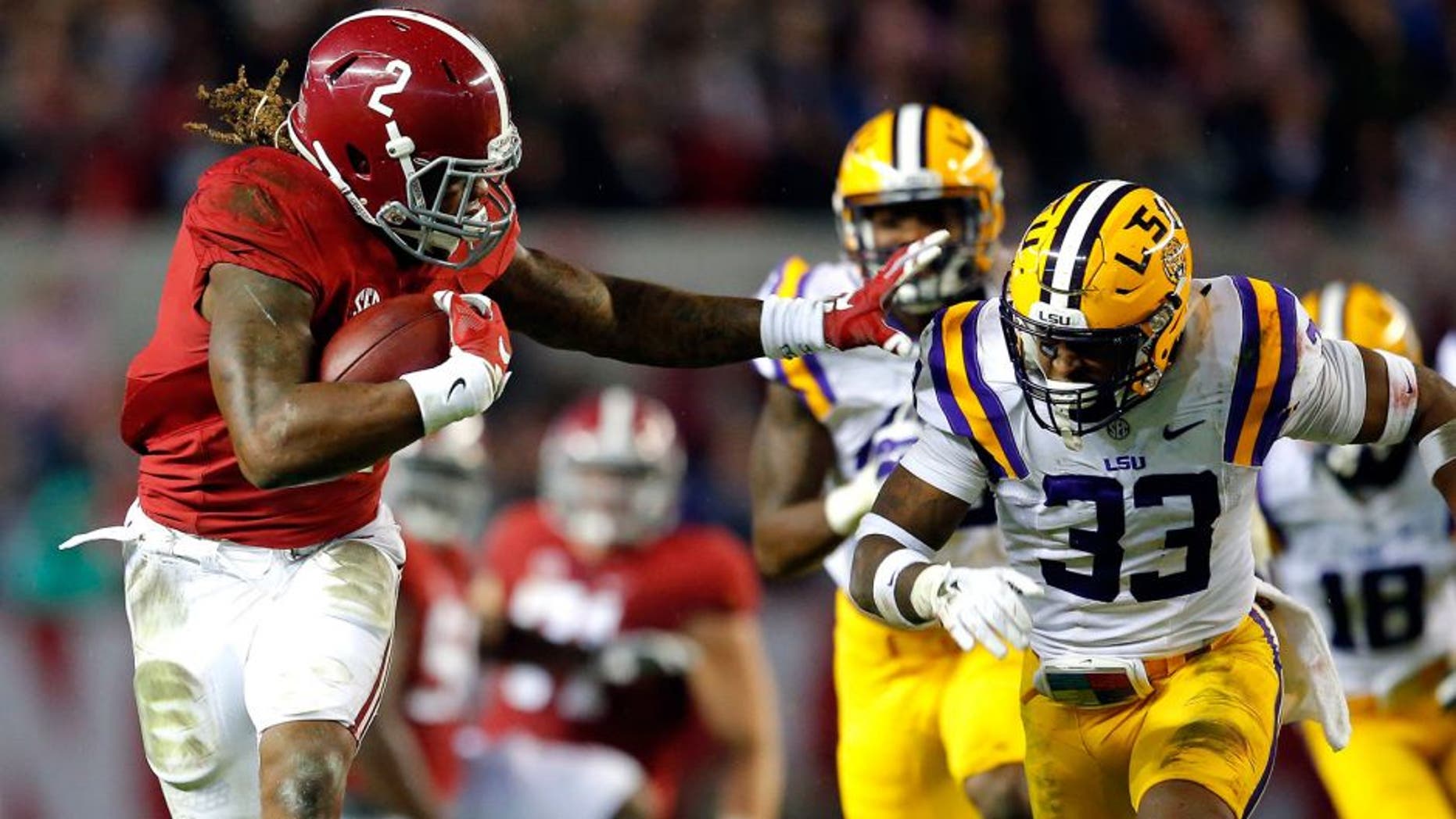 Dear College Football Playoff committee,
You were right, we were wrong.
Again.
Last Tuesday you told us 7-1 Alabama was the fourth-best team in the country. We, the public, responded with a collective, "Oh, c'mon." We invoked a whole lot of shouts of bias. And "Ole Miss."
Oh, but look at you now. Here's guessing you'll be handing out some high-fives and back-pats in Dallas this week after the Crimson Tide went out and bulldozed your No. 2 team, previously undefeated LSU, 30-16. Meanwhile, look what happened to some of the teams people thought you should have had higher last week.
There's no "D" in TCU, apparently. Oklahoma State destroyed your eighth-ranked Horned Frogs. (By the way, you'll probably want to move up the No. 14 Cowboys quite a bit.) No. 7 Michigan State? Lost to 3-6 Nebraska. Not exactly playoff material. Even plucky No. 13 Memphis ran into a (Navy) ship it could not bring down.
Back here in Tuscaloosa, though, the Alabama defensive front put on its most dominant performance yet, holding presumptive Heisman front-runner Leonard Fournette to 13 yards on his first 15 carries and 31 yards total on the night. He came in averaging a mere 193 per game.
We kept waiting for LSU's offensive line to figure out how to block somebody, but the Tide defenders just kept coming -- A'Shawn Robinson, Dillon Lee, Dalvin Tomlinson ... well, we could rattle off all 11. They all either brought down Fournette or brought the heat on quarterback Brandon Harris at some point.
Meanwhile, on offense, the Tide basically did to LSU exactly what the Tigers had hoped to do them -- run the ball down their throats. Derrick Henry and Kenyan Drake combined for 278 yards on 48 attempts. 'Bama QB Jake Coker stumbled around at times, taking three deep sacks, but he also did a nice job keeping the LSU defense off balance with screens, slants and quick strikes to several different receivers.
'Bama basically put on its most 'Bama-esque performance to date.
Not that Saturday's clinic will quiet the Tide's skeptics. If anything they only grew louder earlier in the day after Ole Miss -- the team that handed Alabama its lone loss way back on Sept. 19 -- lost to 4-4 Arkansas, the Rebels' third defeat of the year. In some corner of the Internet, someone is surely arguing that 7-1 Navy -- by beating Memphis, which beat Ole Miss -- should now be ranked higher than the Tide.
But you, wise men and woman of the committee, know well what we mere peons often forget -- some college football teams get better and others worse over the course of the year. In fact, you taught us that last year by overlooking Ohio State's Week 2 loss to mediocre Virginia Tech. The Buckeyes promptly went out and rewarded your faith in them by winning the playoff.
No one's anointing this Alabama team champion of anything yet, only noting that it's come a long way since Sept. 19. It's now beaten four foes with six wins or better by margins of 18 (Wisconsin), 28 (Georgia), 18 (Texas A&M) and 14 (LSU).
That starts with the fact that you cannot run the ball on 'Bama's front seven. That's not hyperbole. Coming into Saturday the Tide were allowing just 2.6 yards per carry, third-best nationally, and promptly managed to hold the leading rusher in the entire sport to even less than that. Fournette constantly had defenders flying at him before he could reach the line of scrimmage. Defensive backs like Eddie Jackson and Marlon Humphrey often made the tackles.
Even a semi-formidable passing attack may have helped loosen up the defense for Fournette, but save for a couple of flashes early (including a 40-yard touchdown pass), Harris could not provide it.
Alabama so thoroughly humbled Fournette that now the guy who's been leading the Heisman race nearly the entire season may have a hard time winning it. Certainly it helps that his closest competitor, TCU's Trevone Boykin, fell flat Saturday as well, but suddenly Alabama's Henry, Stanford's Christian McCaffrey, Ohio State's Ezekiel Elliott and Clemson's Deshaun Watson have renewed hope.
Henry will certainly help his cause if he can lead Alabama to a second-straight SEC title and playoff berth. Both goals are suddenly very attainable. The Tide sit alone in first in the West after Ole Miss' loss. Next week they visit a 7-2 Mississippi State, followed by Charleston Southern and Auburn. A Florida team that eked past Vanderbilt 9-7 on Saturday awaits the West champ in Atlanta.
Anyone who did not like seeing Alabama all the way up at No. 4 in last week's playoff rankings is going to be even more peeved Tuesday. Expect the Tide to move up to No. 2 behind only 9-0 Clemson. They control their playoff destiny, as they should.
The committee just figured that out a week earlier than the rest of us.
Stewart Mandel is a senior college sports columnist for FOXSports.com. He covered college football and basketball for 15 years at Sports Illustrated. You can follow him on Twitter @slmandel and Facebook. Send emails and Mailbag questions to Stewart.Mandel@fox.com.