A look at the Jets' QB situation after losing Smith for 6-10 weeks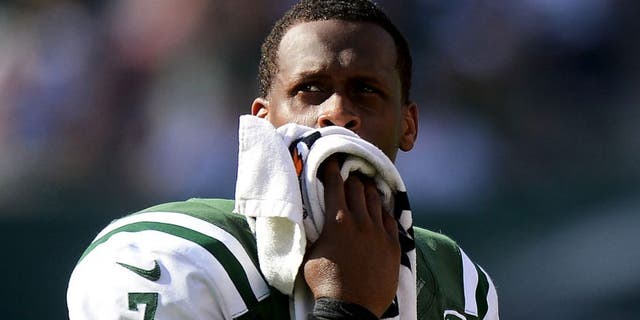 The New York Jets suffered a big blow on Tuesday when Geno Smith suffered a broken jaw after he was sucker-punched by a teammate in the locker room. Smith will require surgery to repair his jaw after it was broken in two places, and will be out for 6-10 weeks, according to head coach Todd Bowles.
Without Smith for an extended period of time, the Jets are left with Ryan Fitzpatrick, Bryce Petty, and Jake Heaps on the roster. Fitzpatrick is the only quarterback with any NFL experience, which leaves the Jets with a serious predicament.
Fitzpatrick started 12 games for the Houston Texans last season, throwing 17 touchdowns to just eight interceptions. He's expected to be the incumbent starter in Smith's absence, but Fitzpatrick doesn't have the best track record in the NFL.
If the Jets aren't comfortable with starting Fitzpatrick while Smith is sidelined, Petty doesn't appear to be an option. According to a Jets source via Jeff Darlington, Petty is "not even close" to being ready to start in the NFL.
With that said, the Jets are essentially left with just Fitzpatrick as viable in-house starters. Of course, the Jets can reach into the free agency pool and add a quarterback, which is likely to happen. Although there are currently no great options available, depth behind Fitzpatrick is a must.
Former Jets quarterback Michael Vick is still available and could be a decent backup if need be. If nothing else, he can add a read-option wrinkle to the offense while Smith recovers, which will allow the Jets to pound the ball and win with great defense.
Matt Flynn, although not healthy right now, was just released by the New England Patriots and could be another option. He's currently rehabbing a hamstring injury, but the Patriots were unable to wait for it to heal given the fact that there were no quarterbacks beyond Brady and Garoppolo. That could be a blessing for the Jets, given the fact that Fitzpatrick, Petty and Heaps can shoulder the load until Flynn is healthy again.
Finally, the last reasonable option comes in the form of T.J. Yates, who last played with the Atlanta Falcons. He's only started five games in his career, but played a key role in leading the Texans to the playoffs in 2011.
The Jets don't need to bring in a starter off the streets. They just need to find a viable backup for Fitzpatrick. There are options out there, only none of those options are as good as having Smith at quarterback.