A Carolina Panthers fan is suing the Dallas Cowboys for $25,000
By , Dan Graf
Published June 02, 2016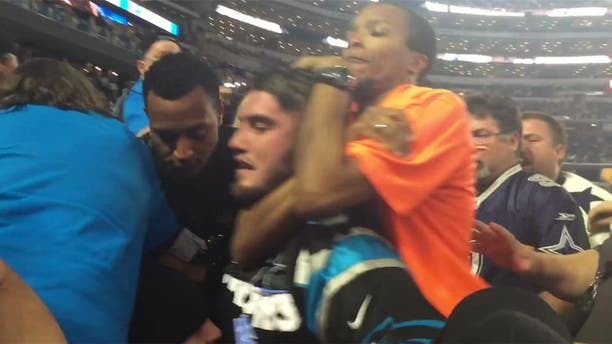 A Carolina Panthers fan who was put in a chokehold by a security guard at AT&T Stadium last Thanksgiving has filed a lawsuit against the Dallas Cowboys and its stadium security company.
John Small and his mother -- who attended the game with him -- are seeking more than $25, 000 in damages, according to the Charlotte Observer, for the incident on this YouTube video, which has been viewed almost 200,000 times. (NOTE: Small uses some NSFW language.)
The details of Small's lawsuit are in the Observer report, and he claims he did nothing to provoke the use of force against him when he was leaving the stadium on his own accord:
Near the end of the game, Small stood up and held up a homemade sign. The lawsuit doesn't say what the sign said, but several reports say it read "11-0," boasting of the Panthers' then-undefeated season and the impending Dallas defeat.
The lawsuit says a security guard asked Small to sit down, but the North Carolina man didn't because "Mr. Small's behavior, while enthusiastic, was not disruptive."
The suit says Small didn't pose a threat to other fans or security guards, and that he didn't violate the Cowboys Stadium Code of Conduct.
The lawsuit said Small was actually leaving the stadium when the scuffle broke out.
"Mr. Small was already in the aisle walking toward the exit when a member of the security team hit him in the back," the lawsuit says. "This blow caused Mr. Small to stumble slightly, and then the security team member came up behind Mr. Small, and wrapped his arm around Mr. Small's neck from the back, bending his elbow and tightening his arm to create a chokehold."
https://www.foxnews.com/sports/a-carolina-panthers-fan-is-suing-the-dallas-cowboys-for-25000