Weeks after its discovery in Borneo, rare Sumatran rhino dies
By ,
Published April 05, 2016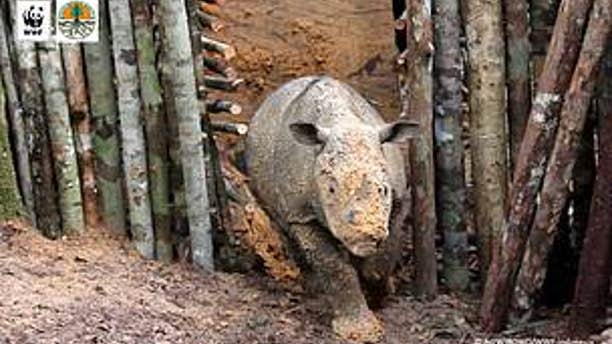 A rare Sumatran rhino has died just weeks after its discovery in the Indonesian part of Borneo was hailed as a milestone by conservationists.
Indonesia's Environment Ministry told AFP that the female rhino, known as Najaq, died after contracting a leg infection.  The animal's health had deteriorated in recent days, according to the Ministry, which said that a post-mortem examination is being carried out to find the official cause of death.
The rhino was captured in a pit trap in Kutai Barat in East Kalimantan on March 12, marking humans' first physical contact with the species in the area for over 40 years.
Related: Rare Sumatran rhino sighted in Indonesian Borneo
The sighting in an area where the rhinos were thought to be extinct was welcomed by conservationists.
A World Wildlife Fund survey team first found evidence that the species was not extinct in Kalimantan after they identified footprints and captured a photo of a rhino in the same forest. Some 15 Sumatran rhinos were subsequently identified in three populations in Kutai Barat.
There are only an estimated 100 Sumatran rhinos still in the wild, mainly on the island of Sumatra.
Related: Cute zoo babies
Threats to the rhinos include poaching and habitat loss due to mining, plantations and logging. Experts note that the wild population of Sumatran rhinos in the Malaysian part of Borneo was declared extinct last year.
Indonesia recently announced an increase in the population of another type of rhino, the Javan rhino, which only survives in Ujung Kulon National Park in the Banten province of Indonesia. Three new calves brought the number of Javan rhinos up to 63, the WWF reports.
https://www.foxnews.com/science/weeks-after-its-discovery-in-borneo-rare-sumatran-rhino-dies