South Carolina shark attack survivor shares terrifying video of incident: I heard the 'crunch of my head'
By Madeline Farber
Published November 28, 2018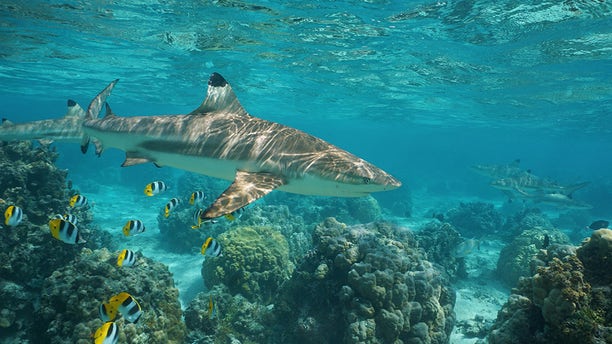 When South Carolina resident Will Krause embarked on a spearfishing trip over the summer, he never expected a fun and sun-filled trip would result in a near-death experience.
The Greenville resident took to Facebook Thursday to share the harrowing details of the moment a 7-foot reef shark charged at him, attacking his head and neck.
"This Thanksgiving, I'm thankful (more than ever) for God's kindness & protection over our family," Krause began. "[Three] months ago (Aug 20, 2018), I survived a shark attack to the head while spearfishing in the Abacos. I was 25 feet below the surface when the 6-7 ft Reef Shark struck the back of my head & neck."
SHARK EMBRYO SEEN 'SWIMMING' INSIDE TRANSLUCENT EGG CASE IN 'VERY RARE' FOOTAGE
With help from his shipmates, Krause said he "miraculously escaped with several stitches, some gnarly scars, & a viral GoPro video."
A video of the event, which had more than 300,000 views on YouTube as of Wednesday afternoon, was captured by Krause's shipmate, Zach Shipp, The Charlotte Observer reported. Shipp can be heard yelling "Shark! Shark! Shark!" in the video as he breaches the water moments after seeing the attack first-hand.
"I was pleading with the Lord: Not right now, not yet," Krause recently recalled to ABC'S "Good Morning America," adding he distinctly remembers "the sound of the crunch of my head, which is not a pleasant sound."
SOUTH CAROLINA FISHERMAN SPOTS HUGE WHALE SHARK APPROACHING BOAT: 'IT WAS PRETTY NEAT'
Krause, who also told the news station he was surrounded by his own blood following the incident, said the experience has "shift[ed] [his] perspective."
"It doesn't take a shark attack to recognize God's generosity & intentionality in our lives," he wrote, in part, on Facebook. "May this Thanksgiving point you NOT just to the reality that you are blessed, but to the One who is giving the blessing."
Will Krause did not immediately respond to Fox News' request for comment Wednesday afternoon.
https://www.foxnews.com/science/south-carolina-shark-attack-survivor-shares-terrifying-video-i-heard-crunch-of-my-head