Skiing Down Iceland's Erupting Volcanoes
By ,
Published January 08, 2015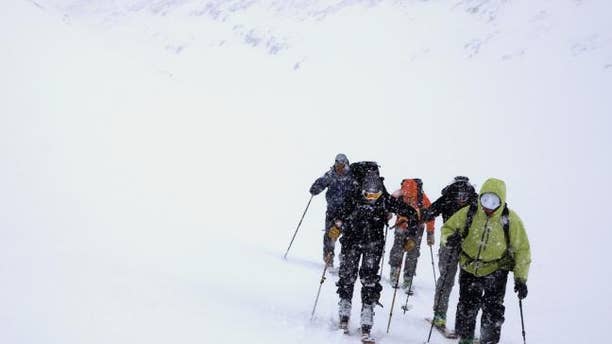 Does Iceland have volcanoes? Clearly, and they're explosive. Is there skiing in Iceland? Yes. But do those two things go hand in hand? I wanted to find out.
I spent six days touring on glaciated terrain and descending from some of the highest points on the island. My guide at Icelandic MountainGuides promised an adventure, writing in our itinerary: "The objective is Iceland's most famous Volcano Hekla, 1.5 miles above sea level. Hekla is the volcano that erupts the most frequently in Iceland, on average every 10 years. The last eruption was in February 2000. Having skis on is great as it guarantees a fast retreat if the volcano blows."
Mental note: Wax my skis before attempting this.
Since Iceland sits on a massive volcanic hot spot in the Atlantic Ocean, there are a lot of volcanoes. And they tend to erupt. A few weeks ago, the Eyjafjallajokull (AYA-feeyapla-yurkul) volcano erupted after being dormant for nearly 200 years. Some 500 people were evacuated from their homes.
I had no idea that the trip would coincide with one of the biggest volcanic eruptions the country has seen in years.
The day I arrived in Reykjavik, the Eyjafjallajökull volcano erupted a few hundred miles from the city. I couldn't see any signs of the ash or smoke in the air -- the wind was blowing it all south toward Europe.
We were planning to climb and ski the biggest volcano in Iceland, 2,110-meter Hvannadalshnjúkur (don't even bother trying to pronounce that) on the southern shore of the island. But the eruption shut down the road that accesses the southern shore -- and the ash and smoke were severe enough that the explosion closed all the airports in northern Europe.
Instead, we tried to ski nearby Hekla, a 1,491-meter-high volcano that is also due to erupt any day now. We were being led by two guides: Leifur Orn Svavarsson, a tall and tough avalanche forecaster, and Hallgrimur Magnusson, our steadfast driver and the first Icelander to summit Everest.
They thought we could drive our four-wheel-drive, 15-passenger van to the base of the mountain, but warm temperatures and torrential rains had melted the ground enough to make the drive impossible. After several failed attempts to get the van up a steep, muddy embankment and through five-feet-deep ravines, we gave up and had a picnic of fish paste sandwiches in the freezing rain instead.
The day's highlight ended: a trip to the local microbrewery and a dark, chocolaty beer appropriately called Lava.
We awoke the next day to more freezing rain, high winds, and little to no visibility. A backcountry skier anywhere else would have called it a rest day; but not Icelanders. They are used to severe weather, hard labor, and winters of total darkness. And the most popular snack is dehydrated, salted fish jerky.
"I think instead of the 1,000-meter climb, we will do an easier ski tour," Leifur said. "Only 600 meters to a steep couloir," a French word for a gully or gorge. We set off on a track into the storm cloud, with ice nuggets pelting our faces -- and several hours later, reached the top.
Hallgrimur dropped into the couloir first. One turn in and an avalanche ripped under him, sending him for a 200-yard tumble and turning the entire slope into an icy bed (Grimur was fine). None of us saw this however; we could barely see our own hands in front of our faces. We dropped in one at a time after him and scratched our way blindly down the ice layer.
At this point in the journey, I was beginning to fret. If there was skiing in Iceland, it was buried under lava, mud, avalanches, and freezing rain, and you have to be a tough-as-nails Icelander to survive to the powder stashes. But all that was about to change.
The next day, Leifur selected a zone near the town of Dalvík. An approach over rock and grass leads us to a wide basin with steep and shallow untouched shots descending into it. We climb to the summit, where even the fierce winds can't detract from the fact that we can see the ocean in nearly all directions. It's nice to see anything after yesterday's lack of visibility.
I'm convinced Leifur is going to suggest we eat our lunch (smoked salmon and cream cheese sandwiches) on the cold, windy ridge; since we had previously picnicked in freezing rain, I was convinced that the Icelandic people must enjoy eating in particularly cold locales. He suggests we scoot down into a protected cove to take a break.
After lunch, we ski six inches of creamy Arctic snow down to the basin floor. We're all so delighted at our luck -- finally! Skiing powder in Iceland! -- we all immediately attach our skins to our skis and begin climbing for another lap.
Shockingly, we run into another group of backcountry skiers. According to Leifur, about 300 people in Iceland go ski touring (granted, there are only 300,000 or so people in the whole country). There are a couple of "ski stations," as they call ski areas, but the biggest one opened for just five days this winter due to a lack of snow. So if you're a skier in Iceland, you've got to climb for your turns.
After our second lap, we drop back down to the road, change out of our boots, and head to the local swimming pool, which has tubs full of steaming hot water. Finally, a day in Iceland worth writing home about.
Read the full story at SkiingMag.com.
https://www.foxnews.com/science/skiing-down-icelands-erupting-volcanoes