Record-Crushing 327-Pound 'Dinosaur Fish' Caught
By ,
Published January 08, 2015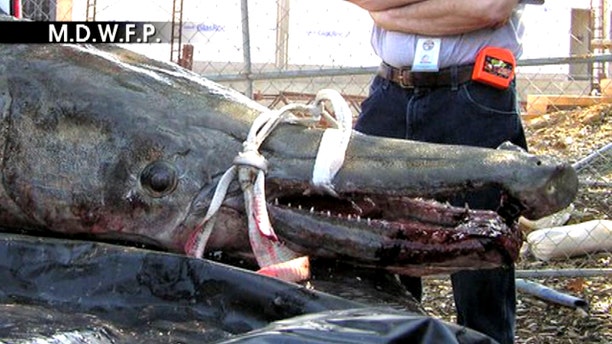 What a Valentine's Day catch!
Looking for all the world like the cross between an alligator, a fish and dinosaur, the alligator gar is the largest freshwater fish in America. And with two rows of teeth, the predatory fish is also terrifying.
So you can imagine his surprise when Kenny Williams, from Vicksburgh, Miss., stumbled across what is being called the largest one ever caught on February 14. The tremendous fish measured 8 feet, 5 inches long, weighed 327 pounds, and was 48 inches around, reported WAPT.com.
Williams told the local TV station that he used nets to catch the fish, before grabbing it by the gills and pulling it bodily into the boat with him. At which point he must have gotten a good look at the fish's double row of razor sharp teeth.
"A lot of people that have seen him say he's a dinosaur fish," Williams joked with a WAPT.com reporter.
"At first I didn't think he was that big. But as I was getting him into the boat, it was like, 'How big is this thing?' It was a lot of effort just to get him into the boat," Williams said. "I don't even know how to describe it. It was just huge and hard to get into the boat."
Officials with the Mississippi Department of Wildlife, Fisheries and Parks (MDWFP) said it could be the largest alligator gar caught. In scientific literature, there was a report from 1963 of a 302-pound alligator gar, MDWFP's Dennis Riecke said. Williams' fish is definitely the largest since that time, and is certainly the largest recorded in Mississippi, Riecke said.
The fish is believed to have been between 50 and 70 years old, wildlife officials said.
Read more about the world's largest alligator gar at WAPT.com.
https://www.foxnews.com/science/record-crushing-327-pound-dinosaur-fish-caught