Rare albino porcupine spotted at Maine museum
A mysterious hairy, white creature found on the lawn of the Seashore Trolley Museum in Kennebunkport, Maine, this week was later determined to be a rare albino porcupine. 
The rodent — which is likely a juvenile as its quills have not yet hardened, per The Portland Press Herald — was spotted by museum staff on Tuesday. The museum later took to its Facebook page with pictures of the toupee-resembling creature, hoping social media could help to identify it. The consensus was it's an albino porcupine.
CHICAGO ALLIGATOR REPORTEDLY MOVING TO FLORIDA: 'CHANCE THE SNAPPER' WILL 'BE LIVING IN LUXURY'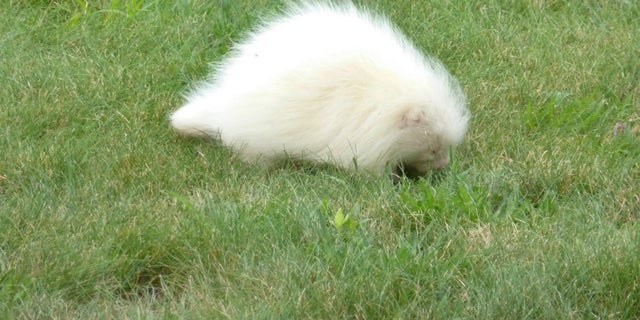 CLICK HERE TO GET THE FOX NEWS APP 
"We all thought it was an albino skunk because it was so fluffy," Katie Orlando, executive director of the Seashore Trolley Museum, told the newspaper.
Porcupines are common in Maine, though albino ones certainly aren't. About one in every 10,000 of the species is an albino porcupine, according to Missouri Department of Conservation.
Later, museum officials announced they have named the porcupine "Marshmallow."
The Associated Press contributed to this report.