Orionid meteor shower to light up night sky this weekend: Everything you need to know
Halloween fans are in for an early treat — a sprinkle of stars will be visible in the night's sky this weekend as the Orionid meteor shower makes its annual appearance.
The meteor shower, which contains debris from Halley's Comet, is expected to peak early Sunday morning, shooting off around 15 to 20 meteors per hour. The space rocks will zoom by, traveling at speeds up to 148,000 mph, Space.com reports.
NASA meteor expert Bill Cooke warns the view may not be ideal for some portions of the U.S., blaming bad weather and the Moon for potentially blocking your view.
NASA TO MAKE HUGE DECISION IN HUNT FOR ALIEN LIFE ON MARS
"The Moon is going to mess with you," Cooke told Space.com.
Here's everything you need to know about the starry spectacle.
How are meteors formed?
A meteor forms when a meteoroid, a type of space rock that breaks off from an asteroid — a rocky body orbiting the sun — enters Earth's atmosphere. As soon as the space debris crosses over, it breaks down into what scientists call a "meteor," which then vaporizes and — as a result of friction — appears as a bright streak of light in the sky.
"Because of their appearance, these streaks of light some people call meteors 'shooting stars,'" NASA explains in a blog post. "But scientists know that meteors are not stars at all — they are just bits of rock!"
What is an Orionid meteor, specifically?
Orionid meteors are small chunks of rock that break off the famous Halley's Comet, which slowly travels around the sun and pops by Earth every 76 years or so. These particular meteors are named after their point of origin — the constellation Orion.
As Halley makes its way into the inner solar system, it "sheds" debris and dust particles that eventually form into meteors, NASA explains.
"Halley treats us to a meteor shower twice a year as our planet passes by the debris cloud," Cooke said in a 2015 NASA blog post. "In May we have the Eta Aquariids, and in October the Orionids."
According to NASA, Orionid meteors are known for their "brightness and speed."
HUGE 'DIAMOND' SCULPTURE IN SPACE COULD MAKE HISTORY
When can I see the Lyrid meteor shower?
Technically, meteors will be flying across the night's sky through Oct. 29. But your best bet at witnessing a fireball in action will be overnight on Oct. 21 and Oct. 22 — when the shower reaches its peak. You'll be able to catch the most meteors around 2 a.m. on those nights, Cooke predicts.
The shower will be visible in both the Northern and Southern atmospheres after midnight, though pollution, weather and the Moon could cloud the sky and prevent you from catching the show.
How can I watch it?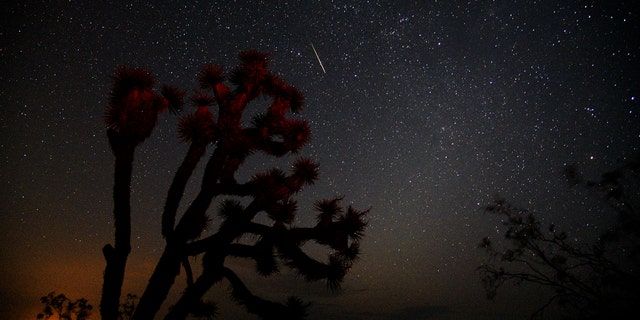 Unlike solar eclipses, which requires special equipment to view the astrological event, you don't need anything to spot this celestial event.
"Get to a dark spot, get comfortable, bring extra blankets to stay warm, and let your eyes adjust to the dark sky," NASA suggests. "A cozy lounge chair makes for a great seat, as does simply lying on your back on a blanket, eyes scanning the whole sky."
It takes about 20 minutes for your eyes to adjust to the darkness, so you should head outside about an hour before the meteors are expected to shoot across the sky.
The meteors will start to form around the Orion the Hunter's sword. However, NASA recommends focusing on a spot in the sky away from the constellation, as they will "appear longer and more spectacular from this perspective."