Medieval mystery: Bizarre porpoise burial baffles experts
By James Rogers, ,
Published March 09, 2018
A bizarre medieval grave containing the remains of a porpoise is still baffling experts months after its discovery.

The grave was discovered in September 2017 on an islet off the west coast of the island of Guernsey in the English Channel. The islet, Chapelle Dom Hue, is believed to have been occupied by Benedictine monks in the medieval period.
Researchers have found a host of medieval pottery and prehistoric flint on the islet, but were stunned when they found the mysterious grave.
GRUESOME MYSTERY: 8,000-YEAR-OLD SKULLS FOUND IMPALED ON WOODEN STAKES
"It contained the remains of a harbour porpoise," explained Philip de Jersey, a research associate at Oxford University and Guernsey archaeologist. "The animal seems to have been butchered before being placed in a neat rectangular pit, cut down into the gneiss [a form of rock] which forms the bedrock of the islet."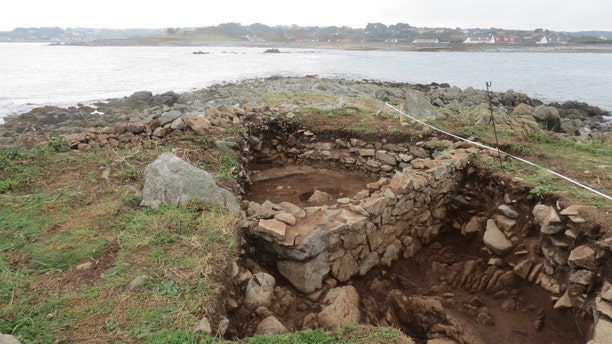 The grave, which is oriented north-east/south-west, was found near the remains of a structure that archaeologists think may be a chapel.
Pottery found at the site likely dates the grave to the 14th century, according to de Jersey. "Porpoise was a delicacy in the Middle Ages, and there are plenty of references to its consumption, including a couple in 13th/14th century documents relating specifically to Guernsey," he told Fox News. "The puzzle, however, is why go to the trouble of digging a 'grave' for this animal after it had been butchered?"
REMAINS OF MYSTERIOUS STONE AGE BABY FOUND CRADLED IN MOTHER'S ARM

The archaeologist notes that it would have been easy to throw the carcass into the sea, which is just a few feet away. "It is just possible, perhaps, that this pit was some kind of failed experiment at preserving the meat, packed with salt, and further analysis of the soil may shed some light on this," he said. "There were no finds accompanying the animal other than sherds of medieval pottery, as found on the rest of the site, and redeposited prehistoric flint."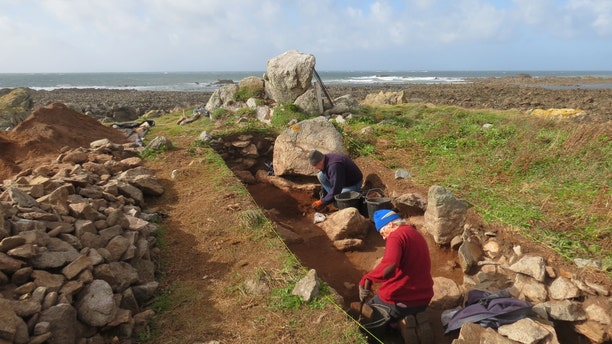 At this stage, it looks as if the grave mystery will endure.
The porpoise skeleton has suffered from the acidic soil, making a first attempt to radiocarbon date the animal's vertebra unsuccessful. "We may be able to make another attempt with a part of the skull, which is slightly better preserved," de Jersey told Fox News.
MYSTERIOUS ROCK ART UNCOVERED IN CAVES ON UNINHABITED CARIBBEAN ISLAND
There are no plans to do further excavation at the site.
Follow James Rogers on Twitter @jamesjrogers
https://www.foxnews.com/science/medieval-mystery-bizarre-porpoise-burial-baffles-experts