Leonardo da Vinci's $450 million 'Salvator Mundi' painting heads to the Louvre Abu Dhabi
By James Rogers, ,
Published December 07, 2017
Leonardo da Vinci's "Salvator Mundi" painting, which recently sold for a record $450.3 million, will be exhibited at the new Louvre Abu Dhabi.
The museum, which opened its doors in a blaze of publicity last month, announced the exhibit in a short Instagram post and a series of tweets in English, French and Arabic Wednesday. The Louvre Abu Dhabi also announced the news in an Arabic post on its Facebook page.
The painting by the Italian Renaissance master grabbed headlines when it was sold for a record-breaking price at Christie's auction house in New York.
SECRET GHOSTLY PORTRAIT OF MARY, QUEEN OF SCOTS, DISCOVERED BENEATH 16TH-CENTURY PAINTING
The highest known sale price for any artwork had been $300 million for Willem de Kooning's painting "Interchange."
"Salvator Mundi," Latin for "Savior of the World," is one of fewer than 20 paintings by Da Vinci known to exist and the only one in private hands. The painting's buyer was not identified, prompting speculation about the mystery purchaser.
The New York Times claimed Wednesday that the painting was purchased by a Saudi prince.
GEORGE WASHINGTON'S FAMOUS REVOLUTIONARY WAR TENT FOUND IN NEWLY-DISCOVERED PAINTING
Christie's congratulated the Louvre Abu Dhabi Wednesday.
"Congratulations — the Salvator Mundi is going to its new home the @LouvreAbuDhabi," it tweeted.
"Salvator Mundi" has raised the profile of the new Louvre museum within the art world. A decade in the making, the Louvre Abu Dhabi is the centerpiece of the Saadiyat Island cultural district in the United Arab Emirates capital. The museum is supported and received contributions from Agence-France Museums.
THIS TINY DETAIL REVEALED A PAINTING WAS LOOTED BY THE NAZIS
The stunning modernist building, designed by French architect Jean Nouvel, sits under a honeycombed dome of eight layers of Arab-style geometric shapes.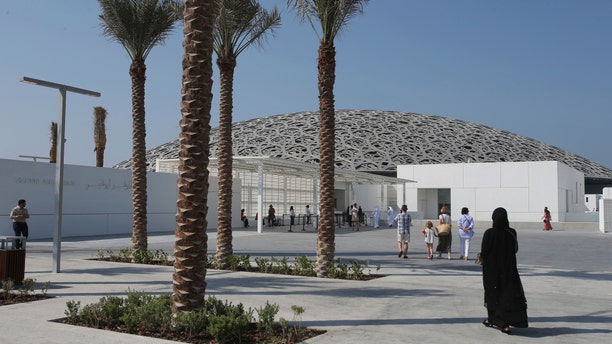 Arab leaders and kings, as well as French President Emmanuel Macron and his wife Brigitte, attended the museum's inauguration last month.
Envisioned by France's then-President Jacques Chirac as a means to fight extremism with art after the Sept. 11 attacks, the Louvre Abu Dhabi is intended to be a bridge between East and West, with Buddhist, Christian, Islamic and Jewish artifacts.
The construction project, however, was plagued by questions over laborers' conditions.
The Associated Press contributed to this article. Follow James Rogers on Twitter @jamesjrogers
https://www.foxnews.com/science/leonardo-da-vincis-450-million-salvator-mundi-painting-heads-to-the-louvre-abu-dhabi