Grandson of ocean explorer Jacques Cousteau getting his feet wet to continue family legacy
By ,
Published October 20, 2015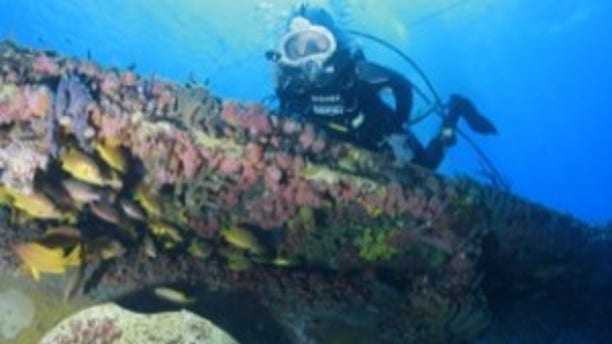 The grandson of pioneering ocean explorer Jacques Cousteau is trying to break his grandfather's record of time spent underwater.
According to WFOR-TV, Fabien Cousteau is planning to spend 31 days in the undersea laboratory known as Aquarius, in an attempt to outdo his grandfather, who spent 30 days living in an underwater village he created.
The younger Cousteau descended the waves off Key Largo, Fla., on June 1 to study the coral reef for the Mission 31 expedition.
[pullquote]
The lab, the station reports, is the size of a school bus, about 50 feet below the ocean's surface about 3 miles off Key Largo. Aquarius includes a kitchen, air-conditioning and six sleeping compartments.
Food and other items the team needs is brought in by boat, sealed in a large cooking pot and hand-delivered daily by scuba divers.
Cousteau also has been holding online chats with classrooms around the world. And he's even had visitors -- actor Ian Somerhalder, marine biologist Sylvia Earle and his father, Jean-Michel Cousteau.
CLICK TO WATCH live events from the Aquarius lab.
"It's strange, but I don't really miss much up there. I actually am very comfortable down here," Cousteau told WFOR. He said he is reviving his grandfather's vision of life under the sea to "spark the interest of our upcoming generations in terms of ocean exploration. . ."
Cousteau plans to come out July 2, when it will take 18 hours to safely reach the surface. That's the amount of time needed to let the body re-adjust, avoiding embolisms, paralysis and even death.
When he leaves Aquarius, he will have spent 31 days underwater, one day longer than his grandfather, who died in 1997.
https://www.foxnews.com/science/grandson-of-ocean-explorer-jacques-cousteau-getting-his-feet-wet-to-continue-family-legacy