Alleged Texas Gator Killer Boasted (and Busted) on Facebook
By ,
Published January 08, 2015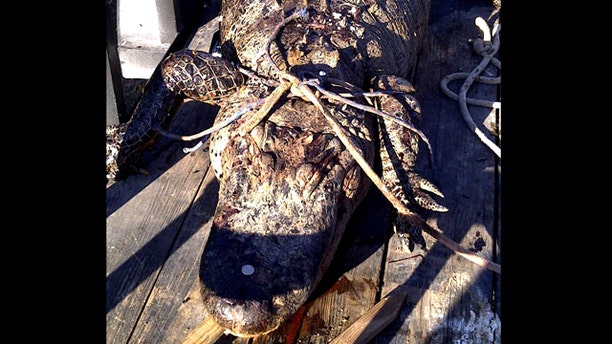 A man who boasted on Facebook that he killed an 11 1/2-foot alligator in Central Texas is a prime suspect in the illegal shooting, Texas wildlife authorities said Thursday.
The gator's body was discovered near a creek in Bastrop County about a week ago, said Fred Ensinger, a game warden with the Texas Parks and Wildlife.
The alligator's size is an "anomaly," Ensinger said, noting that it's nearly twice as big as gators rarely seen so far from the Texas Gulf Coast.
Amos Cooper, a state alligator expert, estimated it probably at least 20 to 30 years old and weighed between 500 to 800 pounds, given its length and girth.
"That's a big gator," said Cooper, alligator program leader at the J.D. Murphree Wildlife Management Area in Port Arthur.
Cooper said there are hundreds of thousands of alligators in Texas' coastal areas. He said he has seen some as large as 13 or 14 feet in his 24 years on the job.
"In those places where you don't normally expect to see one, you'll see a big one because they'll be in isolated areas," Cooper explained.
The suspected poacher in this case had to go off the beaten path to encounter that alligator, Cooper said, noting it was discovered in a remote part of Wilbarger Creek.
Authorities found it after a tip to the state's Operation Game Thief program, which offers rewards for information that leads to the arrest and conviction of poachers.
Ensinger said the tipster saw the alligator posting on Facebook and said, "That doesn't look right."
"Once it hit social networking it was all over the place," the game warden said.
Ensginer wouldn't identify the suspect because he hasn't been charged with what is likely to be a misdemeanor.
He said the man, who has been cooperative, did not shoot the alligator for its meat or hide. He said it was probably more of a "curiosity, out of ignorance."
"They saw it, said 'that's a big animal,' and decided to go back and shoot it," Ensinger said.
It's illegal to kill alligators in Bastrop County, the game warden said. Unlike some other parts of the state, there is no open hunting season for them there.
https://www.foxnews.com/science/alleged-texas-gator-killer-boasted-and-busted-on-facebook