Presents for Pets and Pet Lovers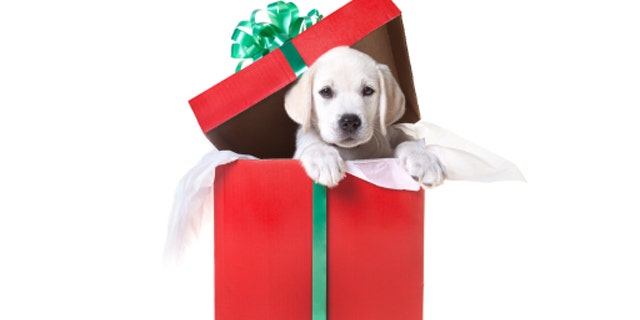 NEWYou can now listen to Fox News articles!
For many pet owners, their animals are dearly loved members of the family. And when Christmas rolls around, it's time to hit the mall to get a gift for little Fido or Fifi. So if you're looking to give a gift to your pet, or to a pet lover in your life, consider some of these suggestions.
Garmin Astro Dog Tracking Collar: Few things are as nerve-wracking a losing a pet. Keep a pet-lover you care about from having to hit the streets in a frantic search for a lost dog with the Garmin Astro Dog Tracking Collar ($650). The collar has a built-in GPS, perfect for pet owners whose dogs have a tendency to bolt. Garmin's device is particularly intended for hunting dogs, so the GPS system can track a hound that's gotten lost in dense brush or run astray in search of a downed duck.
Dyson Animal Vacuum: We love our pets, but they can be a lot of work to clean up after, especially when it comes to getting off of furniture and clothes. Dyson is famous for its innovative vacuums, and their Animal series ($600-$650) provides plenty of pet-centered cleaning features, include an added motor head and improved bristles to pick up all that hair and dander. You can also pair one of these vacuums with Dyson's special pet hair accessory ($70) to make short work of grooming.
Game for Cats: For a free digital stocking stuffer, check out the Game for Cats, an iPad game that features a glowing orb and digital mice that dart around the screen, causing your cat to paw curiously at the screen. While the cat is sure to enjoy it, watching a cat bat around a virtual dot is oddly hypnotic for humans, too.
Litter Robot: Cats are lovely little creatures, but cleaning out the litter box is easily the worst thing about having to care for one. Thankfully, there's the Litter Robot ($349), which is like a Roomba for your cat's litter box. After you cat has done its business, the globe-like Litter Robot rotates, sifting out clumps and dumping them in a drawer below, which you can then easily remove and dispose.
Hanging Fish Bowl: For dorm-bound college kids or studio apartment dwellers, a lack of space and strict rules against most animals can make pet ownership an impossibility. The Hanging Fish Bowl ($20) is the perfect way to give a loved one with little space a bit of animal companionship, all without taking up a single square foot of floorspace. The gallon-sized fish bowl hangs off the wall and is big enough to accommodate a goldfish or Siamese fighting fish.
Petmate Automatic Feeder: For constant travelers and workaholics, there's the Petmate Automatic Feeder ($51). The feeder allows pet owners to preprogram feeding times and amounts. Give this gift to a loved one that's always on the go and you'll never have pet sit again.
FroliCat Dart: The red dot of a laser pointer sets a cat on "kill mode." Few pet antics are as fun to watch as a cat chasing and pouncing on that digital menace. The FroliCat Dart ($35) automates this with a laser that cuts a random path around the room for a set amount of time, enabling you to kick back and watch some TV while the feline gets a workout.
High Tech Pet Door: Doggie doors are a great way to give your pet access to the great outdoors, but they can potentially also give skinny thieves, possums, and neighboring pets access to your home. Using an ultrasonic chip in the pet's collar, the High Tech Pet Door ($300) only unlocks when your dog or cat is near the door, keeping out undesirables while giving your pet the freedom to roam.
Click here for more Holiday Gift Guides