How to make family game night a weekly tradition
By , Kelsey Roadruck
Published October 26, 2017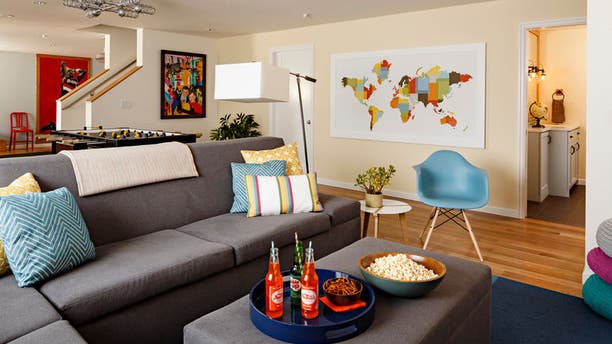 Colder weather brings us closer, but we often feel bored and irritable when the whole family is cooped up indoors. Instead of retreating to our own rooms or busying ourselves with more housework, consider starting a regular tradition for the family to enjoy together. There's nothing quite as universally fun as a good game. Friendly competition and a lot of laughter is a recipe for a weekly family tradition that everyone will look forward to.
Dedicate a space to games and play. Now is an especially great time to get the game room ready before winter weather hits and you get snowed in for days on end. Despite the size of your space, you can always make room for fun. You could convert an attic, basement or den into a game room with some comfortable furniture, funky wall treatments and storage for toys, games and media.
Not all of us have enough space to dedicate an entire room to just games though. If not, make the most out of underused nooks by pulling up a couple of armchairs around a small table. You could also take advantage of double-duty furniture in your living room. Find a coffee table with built-in storage that makes board game setup and clean-up quick and easy. Don't overlook decorative details either! Hang a scoreboard or stencil throw pillows with Scrabble-esque letters to instantly fun up any room.
Make it fun for everyone. The only way this will work is if everyone is having a good time. First, provide enough comfortable seating so every person feels included. Test each seat to make sure it's positioned with a good view of the table, TV or everyone else in the room depending on what game you're playing. A flexible seating arrangement with movable chairs and lightweight ottomans might be best.
Next, avoid making several trips up and down the stairs by keeping a variety of snacks closeby. If you have the luxury of adding a kitchenette to your room design, then go for it! Otherwise, loading up a tray or two will work just fine. Outfitting a cart with party supplies and packaged snacks can also work as a snack station for your game room. Pop some popcorn and pour drinks before you sit down to play. Preparing a snack might actually become part of your tradition. Every week you and your family can decide on a new snack to make and taste-test together, like fruit kabobs, homemade cookies or pigs in a blanket.
Lastly, allowing your kids to invite their friends to the first few game nights might be worth it. Even if you're really looking forward to a night with the family, your kids - especially teens - might not be as keen on a night in with mom and dad. A lively group of friends for your very first game night could prove to your kids that this is a "cool" tradition to keep going.
Find the type of game you enjoy most. If game night feels forced, then it won't be fun and it certainly won't last long. Experiment with board games, card games, video games and even televised games to find something for everyone. If it's a new game that you haven't tried before make sure to spend some time reading and understanding the rules before game night begins. You'll lose kids' attention pretty quickly if you spend too long explaining the rules. It's OK to have a couple of options too. Maybe two family members want to watch Monday night football while the other three play a game of Monopoly. It doesn't matter what game night looks like at your house as long as everyone is together and having fun.
https://www.foxnews.com/real-estate/how-to-make-family-game-night-a-weekly-tradition