William Barr, H.W. Bush-era attorney general, eyed as possible Sessions successor
President Trump wants to nominate William Barr, the George H.W. Bush-era leader of the Justice Department, as his next attorney general, sources told Fox News.
While Trump does not know Barr, he likes the immense respect Barr commands and the fact that he has earned bipartisan support in the past, the sources said.
Still, other sources indicated that Trump could still decide to go with someone else. Others believed to be under consideration include Texas Rep. John Ratcliffe and former New Jersey Gov. Chris Christie. Those close to Trump are divided over the choice: One source close to the White House told Fox News that Barr would be a bad choice, saying "Barr could be worse than Jeff Sessions."
Attorney General Jeff Sessions resigned at the president's request after the November midterms. For months, Trump lambasted Sessions in public over his recusal from the Russia investigation. The president then named Matthew Whitaker, who was chief of staff to Sessions, acting attorney general.
The Washington Post first reported Thursday that Barr, who led the Justice Department under Bush from 1991 to 1992, is the leading candidate to replace Sessions. The paper cited two sources in saying Trump has told multiple people in recent days that he plans to nominate Barr.
The revelation comes a day after Trump attended Bush's state funeral in Washington.
Barr, 68, currently works at the Kirkland & Ellis law firm in Washington.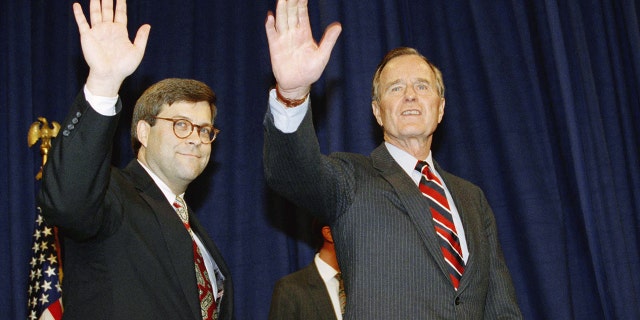 Prior to serving under Bush as attorney general, Barr was deputy attorney general and led the Office of Legal Counsel.
According to his biography, he served in the Central Intelligence Agency from 1973 to 1977. He also served on the White House domestic policy staff under then-President Ronald Reagan.
He graduated from Columbia University with degrees in government and Chinese studies and received a law degree from George Washington University.
DEMOCRATIC SENATORS SUE TO BLOCK MATTHEW WHITAKER'S APPOINTMENT AS ACTING ATTORNEY GENERAL
Democrats have cried foul over the appointment of Whitaker, who now oversees Special Counsel Robert Mueller's Russia investigation, as acting attorney general. Several Democratic senators filed a lawsuit in federal court challenging the constitutionality of Whitaker's appointment, arguing it is in violation of the Constitution's appointments clause.
Fox News' Catherine Herridge contributed to this report.