Who is Cindy Hyde-Smith? 5 things to know about Cochran's Senate replacement
By Kaitlyn Schallhorn, ,
Published March 21, 2018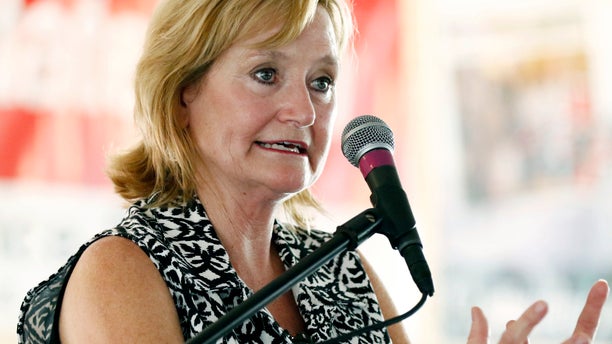 With Sen. Thad Cochran's impending retirement, Mississippi Gov. Phil Bryant appointed Cindy Hyde-Smith to the seat.
Cochran, a Republican, announced earlier this year that he would resign April 1 due to health issues. According to state election laws, it's up to Bryant to appoint a replacement until a special election is held in November.
Hyde-Smith has served as the state's agriculture commissioner since 2011. She is expected to run in the special election to finish out Cochran's term.
Read on for a look at Hyde-Smith and her career.
She will be the state's first female U.S. senator
Hyde-Smith, 58, is the first female to represent Mississippi in Congress.
Her appointment leaves Vermont as the last state to not have a women in either the U.S. House of Representatives or Senate, according to data from Rutgers University's Center for American Women and Politics.
Hyde-Smith is a former Democratic state lawmaker
Prior to her election as commissioner of the state's agriculture and commerce agency, Hyde-Smith served as a state senator for 12 years, from 2000 to 2012.
In the state Senate, Hyde-Smith served as chair of the agriculture committee. Though she was a Democrat, Hyde-Smith would often vote with Republicans, the Clarion Ledger reported. She switched to the Republican Party in 2010.
Her former party affiliation has left some Mississippi Republicans uneasy about her appointment, according to the newspaper.
Andy Taggart, a prominent Republican in the state, alluded to a possibility that Hyde-Smith could be vulnerable to a primary challenger, particularly Chris McDaniel, in November's special election.
"In 1991, the entire GOP Establishment supported a recent party switcher and statewide office holder in the race for Governor. Instead, Kirk Fordice came roaring out of nowhere and won a three-way primary," Taggart said on Twitter.
Hyde-Smith is a supporter of President Trump.
She's been focused on the agriculture industry for a while
Hyde-Smith's dedication to Mississippi's agriculture industry started long before she became commissioner. As a state lawmaker, she "became known as a passionate advocate of farmers and ranchers" in the state, her commissioner biography said.
She championed efforts in the state Senate aimed at protecting the agriculture industry, including right-to-farm and property rights, according to her biography.
Hyde-Smith has also received numerous awards related to her work in the agriculture industry, according to her biography, including from the Mississippi Association of Conservation Districts and the Mississippi Farm Bureau Federation.
Hyde-Smith and her husband raise beef cattle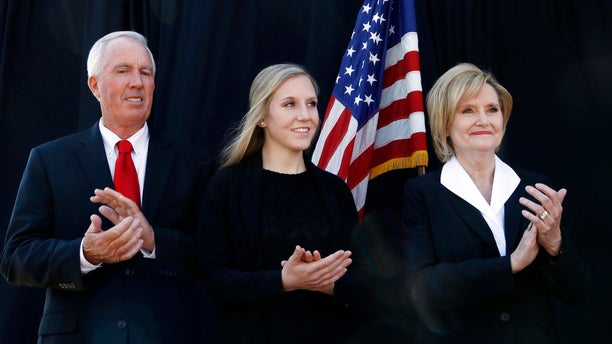 Along with her husband, Hyde-Smith raises beef cattle on their farm in Brookhaven, Mississippi, about 60 miles south of Jackson. They are also partners in Lincoln County Livestock, which holds cattle auctions.
Hyde-Smith grew up as a tom-boy, riding horses and farming, she told the Delta Business Journal in 2015.
"I loved working with the soil," Hyde-Smith said. "And it taught me a deep appreciation for the farmer and farming. You grow your food, feed your family and farmers grow the food to feed America. That garden and that concept all those years ago really began my journey into agriculture. Farmers really do feed America."
Two things made Hyde-Smith fall in love with her husband, she told the Business Journal: he could saddle a horse and he tithed, the act of giving 10 percent to the church.
She has one daughter, Anna-Michael.
She values "different perspectives"
Hyde-Smith told the Delta Business Journal that she had "a few concerns" when she decided to run for agriculture commissioner – especially as she was vying for a job that no woman had held before her.
"I wondered if Mississippi was ready for a female [agriculture commissioner]," she said. "When it came to agriculture; I couldn't help but wonder if my being a woman would be an issue."
But Hyde-Smith said she didn't experience any problems and only a few people ever brought up the fact that she was the first woman in the position.
"There are so many issues that concern farmers that they need a voice, a strong voice, and it doesn't matter whether that voice comes from a man or a woman, as long as it's sincere," Hyde-Smith said.
She told the National Association of State Departments of Agriculture (NASDA) that it's important to include women in conversations because "it is imperative to have those with different perspectives and viewpoints involved in the discussion so that information from all sides and angels can be heard and considered."
"Often, women tend to offer a unique perspective when it comes to establishing a vision for the future and vetting possible solutions," she said. "In many instances, women tend to guide the human side of decision making and can patiently weigh all the circumstances."
https://www.foxnews.com/politics/who-is-cindy-hyde-smith-5-things-to-know-about-cochrans-senate-replacement