Where Newt Gingrich Stands on Issues of Import to Latino Voters
By ,
Published December 12, 2016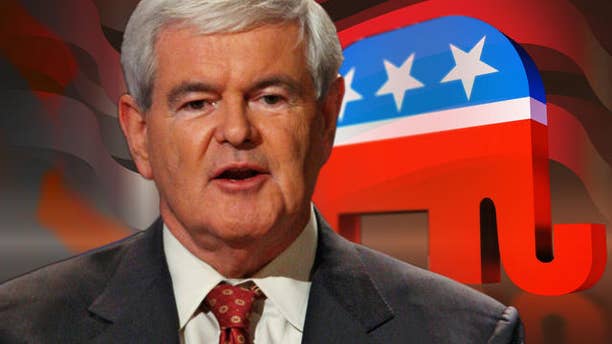 If  Newt Gingrich were to post a status describing his relationship with Latinos, it might best say "complicated."
The former House Speaker garnered praise from some Latinos when he said during debates that some undocumented immigrants who have lived in the country for a long time, and stayed out of trouble with the police, should have a way to stay and work legally in the United States.
He's also launched high-profile efforts to reach out to Latinos, specifically those who are politically conservative. One effort that made headlines – though it's still unknown to most of the public – is The Americano, a bilingual news website for  Hispanics founded by Gingrich Communications. In December 2010, under the banner of The Americano, Gingrich held a forum for Latinos in Washington D.C.
"We created this Forum because we believe that American Hispanics play an important role in shaping the conservative dialogue in Western civilization," said Gingrich. "The Americano stands for liberty and democracy in the U.S. and throughout the world and defends those who have this right taken away."
But the man who made a point of learning conversational Spanish so that he could give bilingual talks, also has left many Latinos boiling mad over comments and campaign positions seen as offensive and insensitive to them.
Those controversial comments and views have touched on everything from – ironically – the "dangers" of native bilingualism to the need for a better work ethic among those in poor neighborhoods.
Gingrich was riding high in the polls late last year, and briefly held the fickle slot of front-runner in the GOP presidential contender race.
Fox News Latino has compiled a list of some issues key to Latinos, and where Gingrich stands on them.
Immigration
Gingrich drew the ire of most of his fellow GOP presidential rivals when he said in a televised debate that he favored allowing some undocumented immigrants to stay and work in the United States if they met certain criteria – lived here for at least 25 years, stayed out of trouble with police, paid taxes, among other things.
"We must reconcile the goal of legality with the reality that there are millions of immigrants currently here outside the law," he says on his website, Newt.org, "some with a long set of family and community ties, and some with no ties."
"A system has to be established that establishes legality but no citizenship for those with deep ties, repatriates those with no family or community ties in a dignified way, and quickly sends home those who have committed criminal and other destructive acts."
This stance quickly drew cries of "amnesty" from proponents of a hard line on illegal immigration.
Gingrich wouldn't flinch, firmly defending his views. He turned the criticism into a challenge to his rivals.
"I don't see how the party that says it's the party of the family is going to adopt an immigration policy which destroys families which have been here a quarter-century," Gingrich said. "I'm prepared to take the heat for saying let's be humane in enforcing the law."
He supports having a high-skilled guest worker program that would make it easier for international students at U.S. colleges to stay here and work.
"There should be an automatic visa to work in the United States if you graduate from an American university in an employable area," he said at The Americano forum in 2010.
Gingrich said the general process of getting a tourist visa, as well as the system for getting a guest worker visa and permanent residency, is unnecessarily bureaucratic and expensive. That difficulty, he said, almost invites people to come to the United States illegally.
As he started falling in the polls, Gingrich began using a more hard-line tone when speaking about immigration, emphasizing the tough enforcement steps he supports and de-emphasizing the more moderate aspects he had pushed.
"I want to say 'go home' to lots of people," Gingrich said to reporters. "I want to create a border that is controlled. . .I'm willing to be tough."
Foreign Policy
Gingrich said it behooves the United States to make sure that Latin America is financially, politically and socially stable.
At the forum Gingrich said: "For very practical reasons, I try to explain to Americans that Afghanistan is a long way away, Iraq is a long way away, Mexico is our immediate neighbor."
"We have an enormous deep concern for the development, the prosperity, the rule of law in Mexico," Gingrich said. "Mexico is central to the future of the United States."
Gingrich also spoke about helping Latin America realize its economic potential, and about being an overall better neighbor to the region.
"I strongly support NAFTA, and I'm happy to defend it anywhere in America," he said. "Having prosperity and investment in Mexico is better than having the same investment in China or India, from an American perspective."
"It's better for us to be a country which helps the entire hemisphere grow rich and understand that if we grow rich together," Gingrich said, "it turns out Mexico is also a great market for the United States just as Canada is a great market."
"We have to extend that all across Latin America."
Official English
Gingrich said that he supports making English the official language of U.S. government business.
By extension, he supports the repeal of the Voting Rights Act provision that mandates foreign-language ballots in certain jurisdictions. Gingrich also opposes the use of foreign languages in naturalization.
And he supports allowing employers to require their workers to speak only English "for legitimate business purposes. . .as long as the policy is clearly posted and known to employees before they are hired."
But his use of bilingual emails and other forms of communication to court Hispanic voters brought criticism from opponents of his Official-English views. They said it was hypocritical to lash out at government multilingual services while using Spanish to encourage Latinos to vote for him.
Where Rick Perry Stands on Latino Issues
Where Rick Santorum Stands on Latino Issues
Where Mitt Romney Stands on Latino Issues
Where Jon Huntsman Stands on Latino Issues
Where Ron Paul Stands on Latino Issues
Follow us on twitter.com/foxnewslatino
Like us at facebook.com/foxnewslatino
https://www.foxnews.com/politics/where-newt-gingrich-stands-on-issues-of-import-to-latino-voters