What does Ted Cruz's Victory Mean for Texas Latinos?
By Roque Planas, ,
Published January 10, 2017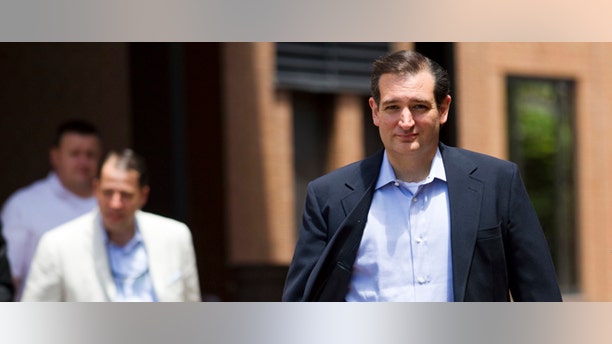 With a largely Anglo base in Texas, the GOP faces the possibility of demographic doom in Texas over the long term unless it can expand its support among Latinos.
But Tuesday's victory for Ted Cruz, who defeated Lt. Gov. David Dewhurst in the Senate primary race, all but assuring his win in November, gave Latino Republicans hope that they can buck the trend.
"It means that a Latino can win as a conservative," said Juan Hernández, the co-founder of Hispanic Republicans of Texas, a political action committee dedicated to supporting the campaigns of Latino conservatives. "There is a place for Hispanics within the Republican Party."
But as the Cruz campaign moves past the primary stage, it remains to be seen whether the former Texas Solicitor General will appeal to Latinos across the state.
"I've always said that when both parties are competing for Latinos to have a place within their party, both parties win," said State Rep. Trey Martínez Fischer, a Democratic and chairman of the bipartisan Mexican American Legislative Caucus. "Having said that, there is a noticeable difference between being a candidate for the Hispanic community and being a candidate who happens to be Hispanic."
With or without Hispanic support, Cruz will likely coast to victory. Texas voters lean strongly toward the GOP—the the state hasn't sent a Democratic senator to Washington since 1994.
But Latino voters will become a more significant part of the November election than they were in the primary. The 9.5 million Latinos living in Texas make up 38 percent of the state's population.
Cruz showcased his immigrant background on the campaign trail, telling the story of his father who arrived with nothing from Cuba and built a better life for himself and his family in the United States.
But Cruz did not prioritize targeting Latino voters—a strategy that would have made little sense in a Texas GOP primary where only an estimated 5 to 10 percent of the electorate was Hispanic.
Some of the platforms Cruz adopted were extreme compared to his conservative opponent, Dewhurst.
In a state where 35 percent of Latinos live below the poverty rate and 37 percent lack health insurance, according to the Pew Hispanic Center, Cruz opposes expanding Medicaid under the Affordable Care Act and refers to the Social Security system as a "ponzi scheme."
"I don't think it's government's job to find health care for people," Cruz said. "I think it's the individual's job to find health care."

Perhaps the clearest disjuncture between Cruz and the many Latinos in Texas may be immigration reform.
"I am categorically opposed to amnesty," Ted Cruz said in a television appearance uploaded to YouTube by his campaign in June. "Amnesty is wrong, it's contrary to rule of law and it's unfair to the millions of legal immigrants who waited in line and came here legally."
Cruz also opposes President Barack Obama's directive to exempt most immigrants brought here illegally as children from deportation—an action Cruz called "illegal" during a televised debate last month.
Some 85 percent of Latinos support a path to citizenship for undocumented immigrants, according to a Fox News Latino poll released in March. Some 90 percent support the DREAM Act.
While Cruz may not fit within the Latino mainstream, he stands to become one of the most prominent national Hispanic politicians if he wins in November. He would join just two other Latino U.S. Senators, Bob Menendez (D-NJ) and Marco Rubio (R-FL)—both of whom are Cuban-American.
"It's very exciting to see a growing field of Hispanic Republicans seeking higher office. Ted Cruz, like Republicans across the ballot, will continue to address the top issue for Latino voters in this election: jobs and the economy," said Republican National Committee Spokeswoman Alexandra Franceschi.
While Cruz's Tea Party-backed rise has drawn comparisons to Marco Rubio, the Florida Cuban-American who rode a wave of anti-establishment anger to a U.S. Senate seat in 2010, Cruz appears to have weaker relationships with the Latino community than Rubio.
Raised in the heart of the Cuban exile community in South Florida, Rubio is a product of his environment. He speaks Spanish fluently and gives regular interviews to Spanish-language media. He opposes the Cuban regime loudly and frequently.
Cruz, by contrast, is a Cuban-American in a state dominated by Mexican Americans, and he speaks his ancestral language with difficulty.
"My Spanish is lousy," Cruz said in an appearance on Fox News.
Cruz doesn't spend much time talking about Cuba, an issue that holds little interests for Texans. The only foreign policy issue he raised on the campaign trail was the need to secure the U.S.-Mexico border—an appeal that resonates more strongly with Anglo voters than Mexican-Americans, many of whom have family on both sides.
But that doesn't mean Cruz's background won't give him an edge among Latino voters.
"His presence provides a visible symbol that the Republican Party is open to Hispanics," Mark Jones, a professor at Rice University, told Fox News Latino.
But Cruz's importance for the Latino community may remain symbolic, according to Jones. Cruz has not taken a leading role in cultivating the Latino electorate the way conservative Texas Hispanics like George P. Bush, the nephew of former president George W. Bush, have, Jones says.
"He doesn't appear to have a great deal of interest in becoming a Hispanic politician," Jones said of Cruz. "He wants to be a Republican politician."
https://www.foxnews.com/politics/what-does-ted-cruzs-victory-mean-for-texas-latinos